Ross E. Lockhart, Publisher & Editor-in-Chief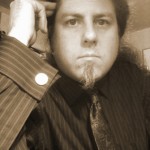 ROSS E. LOCKHART is an author, anthologist, editor, and publisher. A lifelong fan of supernatural, fantastic, speculative, and weird fiction, Lockhart is a veteran of small-press publishing, having edited scores of well-regarded novels of horror, fantasy, and science fiction. Lockhart edited the anthologies The Book of Cthulhu I and II, Tales of Jack the Ripper, The Children of Old Leech: A Tribute to the Carnivorous Cosmos of Laird Barron (with Justin Steele), Giallo Fantastique, Cthulhu Fhtagn!, Eternal Frankenstein, and Tales from a Talking Board. He is the author of Chick Bassist. Lockhart lives in a state of quantum flux in Petaluma, California, with his wife Jennifer, hundreds of books (currently residing in boxes), and Elinor Phantom, a Shih Tzu moonlighting as his editorial assistant.
Elinor Phantom, Editorial Assistant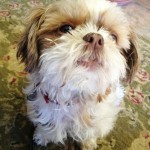 ELINOR PHANTOM is Word Horde's Editorial Assistant. Her primary jobs include sorting out the good stuff from the doggerel, scenting out great book ideas, keeping production running on schedule, and making sure Ross gets out for his daily walks. She enjoys being read to, chasing dachshunds, and napping on laps. Her favorite book is Art Spiegelman's Open Me…I'm a Dog.
Hail the Horde!
These ferociously talented literary warriors have distinguished themselves as vigilant allies and valiant compatriots par excellence in Word Horde's continuing battle against monotony, mundanity, and the forces of darkness and illiteracy. We urge you to seek out and explore their work.