An interview with Nick "The Hat" Gucker, cover artist for Orrin Grey's Painted Monsters & Other Strange Beasts
Closing out our week of interviews, Sean M. Thompson talks with cover artist extraordinaire and all-around Art Creep Nick "The Hat" Gucker, the man responsible for making Orrin Grey's Painted Monsters & Other Strange Beasts look as good on the outside as it reads on the inside.
How did you come you come up with the cover idea for Painted Monsters & Other Strange Beasts?
Originally the request was to do a horror take on Norman Rockwell's "Triple Self-Portrait". But after realizing the great artist William Stout had already done this to great affect, I was having a bit of a time re-inventing this concept. So I threw a few other sketch ideas at the Ross and Orrin to see if any anything tickled their fancy.
I was going for a bit of an old EC horror kind of idea where I could showcase a number of fiends in one go. Most of the monsters on the cover are inspired by Orrin's stories, a few are interlopers.
All told, how many hours did it take from initial sketches to finished cover?
I'm really not quite sure, since I have a full time job and get to work on these projects evenings and weekends. Time starts to become elusive and I worked on this a bit sporadically among a few other projects.
Do you listen to music when you draw, and or do whatever picture magic you do?
I do listen to a lot of music when I'm working, I've a rather broad range of listening habits, so I often hit up iTunes shuffle or load my 5-CD carousel. Currently on deck is Chrome (Half Machine from the Sun), Godflesh (Selfless), Pye Corner Audio (Sleep Games), Berberian Sound Studio Sound Track (Broadcast), and Swans (The Great Annihilator).
Also some audio-fiction and I need to keep reminding me-self to keep up on podcasts, since there are some excellent ones out there.
What made you decide to grow wonderful, bushy sideburns?
It was against my will, the hair started a long chronic gravitational migration down to my cheeks.
I'm just it's host. How long it shall remain there is anyone's guess. The hair may end up on my shoulders.
Do you have a favorite hat?
Well, I have my current favorite daily hat and then I have a favorite fez, which is black felt with a cloisonne viking head (it's actually a Mokanna head) and the word TACOBAT (which is part of the Tacobat Grotto, also known as The Mystic Order of Veiled Prophets of the Enchanted Realm and is an offshoot of a more casual branch Freemasonry with Lodges being called Cauldrens). Its esoteric seeming randomness amuses me to no end, which is to say symbolism is something I really enjoy.
If you could be any kind of monster, what kind would you be?
Probably a ridiculous kaiju of some some sort. I might have two opposing heads, id and ego, comedy and tragedy, that sort of thing on long swaying necks. A mass of tentacles, a multi-digit laden hand that's a detachable limb that can explore and fight on it's own. Some kind of horrid gas expulsion that would drive the humans insane or into a state of euphoria and hallucinations. A set of huge wings, slightly bat-like but unlike anything that would actually function for flight. Multiple legs like that of a moose, that could jackhammer the earth into forced tectonic plate-shifts. I'd be showing up in random cities, smashing buildings, gesticulating and posturing absurdly until some wee man that channels some alien super being transforms himself into a giant fighting machine as a dance partner for me.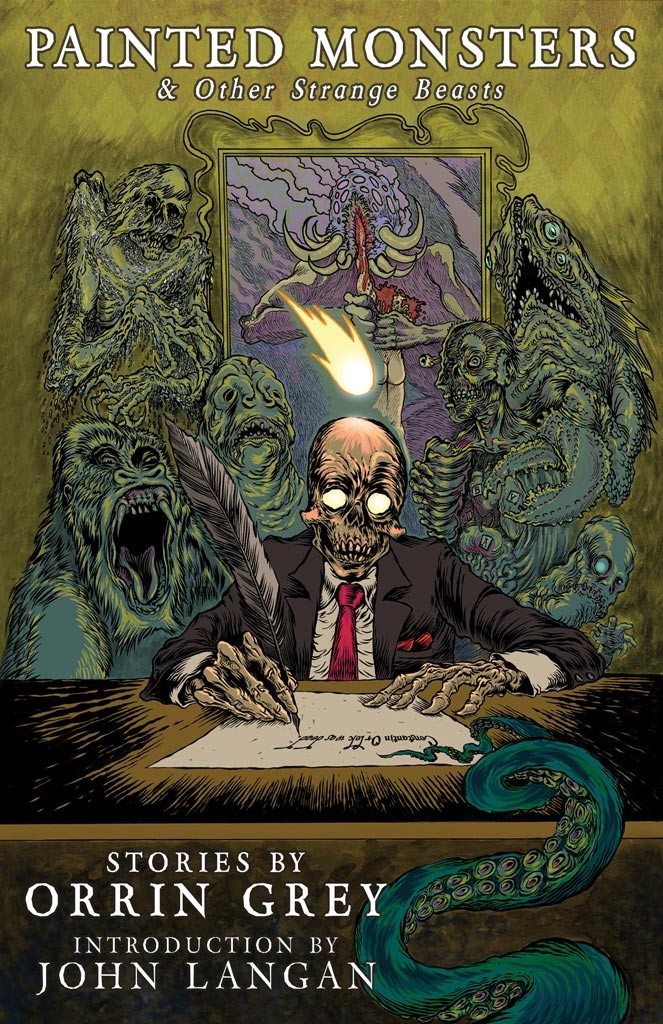 Pre-order Orrin Grey's Painted Monsters & Other Strange Beasts today!