August Specials: Get A Brutal Chill in August and/or An Augmented Fourth for just $11.99 each!
A new month means a new featured book, and this month we've got not just one, but two awesome books at 25% off when you order direct: Alan M. Clark's Whitechapel-set thriller A Brutal Chill in August and Tony McMillen's rock-and-roller (with monsters) An Augmented Fourth. Just $11.99 each when you order direct. You don't need to perform an augury to know this is one heck of a deal!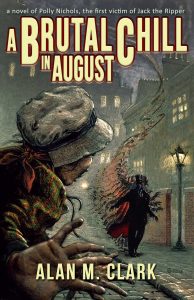 "With A Brutal Chill in August, Alan M. Clark continues his terrific fictionalized accounts of the Ripper's victims–always compelling, and always expertly evoking nineteenth century London. Gripping, suspenseful–written with sensitivity and heart." –Simon Clark, author of Night of the Triffids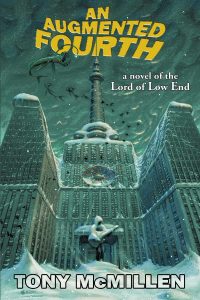 "[An Augmented Fourth] is a wildly entertaining novel that is both a hilarious deconstruction and a tender love letter to rock and roll. McMillen has a knack for dialogue and that helps the action and the story move forward at breakneck speed. […] If you think you'd dig watching a psychedelia-infused version of The Thing while blasting awesome tunes and having a great acid trip, then you need to pick this one up." –Gabino Iglesias, LitReactor
Trivia: Both A Brutal Chill in August and An Augmented Fourth feature fantastic cover art by the multi-talented Alan M. Clark!
Congratulations to Tony McMillen and his wife Taylor on the birth of their baby Nora Wren. If you're picking up An Augmented Fourth this month and would like us to pass along a note of congratulations to the happy parents, please feel free to include it in the comments section of your order.