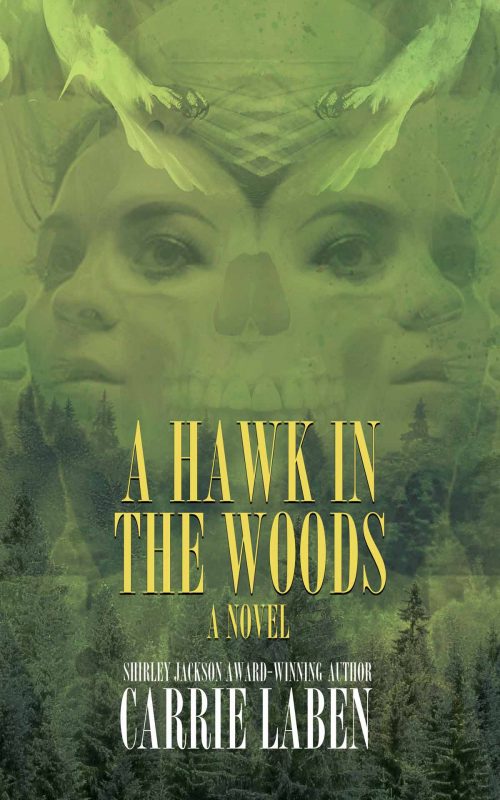 From Shirley Jackson Award-winning author Carrie Laben comes debut Novel A Hawk in the Woods, a tale of twin witches on the lam. Look for A Hawk in the Woods at better independent booksellers in the US and Canada, and many online retailers. Copies with signed bookplates are available direct from Word Horde.
About the Book
When newscaster Abby Waite is diagnosed with a potentially terminal illness, she decides to do the logical thing… break her twin sister Martha out of prison and hit the road. Their destination is the Waite family cabin in Minnesota where Abby plans a family reunion of sorts. But when you come from a family where your grandfather frequently took control of your body during your youth, where your mother tried to inhabit your mind and suck your youthful energies out of you, and where so many dark secrets–and bodies, even–are buried, such a family meeting promises to be nothing short of complicated…
Cover by Matthew Revert
Pub Date: March 26, 2019
Format: Trade Paperback
ISBN-13: 978-1-939905-46-8
Format: eBook
ISBN-13: 978-1-939905-47-5
Reviews
"At once sly and grim, soberingly real and darkly fantastical, the story of the Waite sisters will haunt readers like an eerie old folk song." —Publishers Weekly (starred review)
"In this uncanny world, the darkest moments don't come from the supernatural horror but from the realization that the Waites' underlying dysfunction is a near and dear part of our own." —Foreword Reviews (starred review)
"This is the best debut novel you'll read all year." –Max Booth III for LitReactor
"This debut novel from Carrie Laben sure sticks to your ribs long after you've read it." –Sadie Hartmann for Cemetery Dance
"…a strange sort of chick flick sister adventure, paranormal THELMA AND LOUISE on the road and on the run, trying to stay ahead of the powers out to stop them, while working out the issues in their own relationship. An odd mix, but it works very well!" –Christine Morgan for The Horror Fiction Review
"A Hawk in the Woods has moments of perfect detail or everyday life, juxtaposed with creepy and shocking images that are completely plausible in this world. […] I think horror fans who are conversant with the Lovecraft oeuvre will really enjoy this one." –Marion Deeds for Fantasy Literature
"A Hawk in the Woods can stand on its own as an excellent debut. I can't wait to read more from Carrie Laben in the future. If you enjoy family rooted witchcraft, you are going to want to pick this one up." —Book Den
"A Hawk in the Woods is an excellent book that I couldn't put down. The interesting characters and twisty plot created a mystery that will keep you constantly guessing at what will happen next. Laben's strong prose and expert handling of dual storylines is mesmerizing. This book will sink its hook into your flesh and won't let go until you finish the last word." —High Fever Books
"A Hawk in the Woods is wonderfully dark and spellbinding, mixing the road novel, family drama, time travel, cosmic horror, and maybe even a little Heathers. Carrie Laben is an original, compelling new voice. Consider me a fan for life." –Paul Tremblay, author of A Head Full of Ghosts
"Ride or die sisterhood, conjured from the bones of H. P. Lovecraft." –Molly Tanzer, author of Vermilion and Creatures of Will & Temper
"A Hawk in the Woods is a stunning, chilling masterpiece by one of the best new voices in literary horror. Searingly intelligent, gorgeously wrought, this gripping tale of two gifted, haunted sisters begins as a classic get-away story and soon unfolds into a terrifying excavation of the American dream of unbridled power. Carrie Laben writes with a ferocious grace; a master of the gothic pastoral, of the slow burn, of surprise. Carrie Laben is a monster–they don't even make writers like this anymore. You will be reading her name for decades to come." –Cara Hoffman, author of Running and So Much Pretty
Disclosure of Material Connection: Some of the links in the page above are "affiliate links." This means if you click on the link and purchase the item, I will receive an affiliate commission. I am disclosing this in accordance with the Federal Trade Commission's
16 CFR, Part 255
: "Guides Concerning the Use of Endorsements and Testimonials in Advertising."