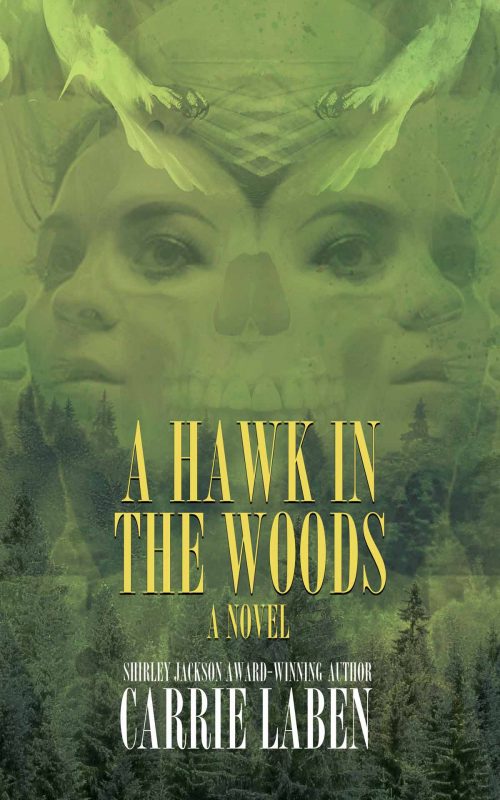 PREORDER NOW! From Shirley Jackson Award-winning author Carrie Laben comes debut Novel A Hawk in the Woods, a tale of twin witches on the lam. Look for A Hawk in the Woods coming soon to better independent booksellers in the US and Canada, and many online retailers. Signed copies are available for preorder direct from Word Horde.
About the Book
When newscaster Abby Waite is diagnosed with a potentially terminal illness, she decides to do the logical thing… break her twin sister Martha out of prison and hit the road. Their destination is the Waite family cabin in Minnesota where Abby plans a family reunion of sorts. But when you come from a family where your grandfather frequently took control of your body during your youth, where your mother tried to inhabit your mind and suck your youthful energies out of you, and where so many dark secrets–and bodies, even–are buried, such a family meeting promises to be nothing short of complicated…
Cover by Matthew Revert
Pub Date: March 26, 2019
Format: Trade Paperback
ISBN-13: 978-1-939905-46-8
Format: eBook
ISBN-13: 978-1-939905-47-5
Reviews
"A Hawk in the Woods is wonderfully dark and spellbinding, mixing the road novel, family drama, time travel, cosmic horror, and maybe even a little Heathers. Carrie Laben is an original, compelling new voice. Consider me a fan for life." –Paul Tremblay, author of A Head Full of Ghosts
"Carrie Laben is a monster–they don't even make writers like this anymore. You will be reading her name for decades to come." –Cara Hoffman, Author of Running and So Much Pretty
Disclosure of Material Connection: Some of the links in the page above are "affiliate links." This means if you click on the link and purchase the item, I will receive an affiliate commission. I am disclosing this in accordance with the Federal Trade Commission's
16 CFR, Part 255
: "Guides Concerning the Use of Endorsements and Testimonials in Advertising."