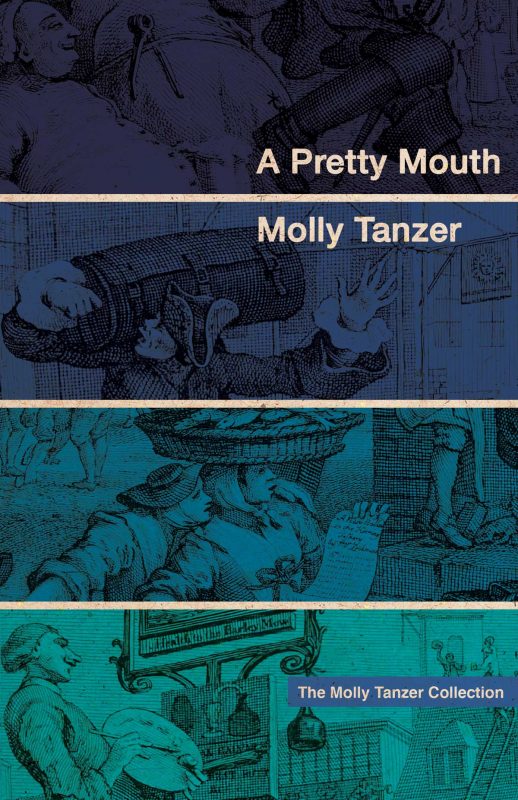 From British Fantasy Award nominee Molly Tanzer comes a collection detailing the triumphs and misadventures of the decadent Calipash dynasty, a family blessed---and cursed---by cosmic weirdness. Look for A Pretty Mouth at better independent booksellers everywhere, and most online retailers. Copies with signed bookplates are available direct from Word Horde.
About the Book
Word Horde Presents: The Molly Tanzer Collection!
Back in print after some time, this new Author's Preferred Edition of A Pretty Mouth features refreshed content, new introductory material and notes, and a new Matthew Revert cover!
A faithful valet is forced into the service of a decadent lord. A young writer of erotica returns to the family estate after many years in exile. A pair of twins conspires to explore the most eldritch and macabre debaucheries. A troupe of soldiers face off against unimagined barbarity. A young man determines to be part of the in crowd…at any cost.
From Molly Tanzer comes A Pretty Mouth, an interlaced collection detailing the triumphs and misadventures of the decadent Calipash dynasty, a family blessed—and cursed—by cosmic weirdness.
Cover Art and Design by Matthew Revert
Pub Date: May 25, 2021
Format: Trade Paperback
ISBN-13: 978-1-939905-62-8
Format: eBook
ISBN-13: 978-1-939905-63-5
Table of Contents
A Spotted Trouble at Dolor-on-the-Downs
The Hour of the Tortoise
The Infernal History of the Ivybridge Twins
A Pretty Mouth
Chapter One: Against Devotion
Chapter Two: Upon Receiving a Warning
Chapter Three: Here the Deities Disapprove
Chapter Four: My Lord All-Shame
Chapter Five: I Will Not Change, As Others Might
Chapter Six: This Will the Substance; He the Shadow Be
Chapter Seven: An Unheroic Exchange
Chapter Eight: Not All Souls Beauty Know
Chapter Nine: The Learnéd are the Least Devout
Chapter Ten: The Wanton Shepherd
Chapter Eleven: The Able Debauchee
Chapter Twelve: Art Can Indeed Seem Much Like Love
Chapter Thirteen: An Empty Source of Solid Harms
Chapter Fourteen: A History of the Unfortunate
Epilogue: Just Like Henry
Damnatio Memoriae

Reviews
"This is a sly and sparkling jewel of a book, and I can't recommend it enough—get A Pretty Mouth in your hands or tentacles, post-haste, and prepare to be shocked, charmed, and (somewhat moistly) entertained!" —Livia Llewellyn, author of Furnace
Other Books in "The Molly Tanzer Collection"
Disclosure of Material Connection: Some of the links in the page above are "affiliate links." This means if you click on the link and purchase the item, I will receive an affiliate commission. I am disclosing this in accordance with the Federal Trade Commission's
16 CFR, Part 255
: "Guides Concerning the Use of Endorsements and Testimonials in Advertising."