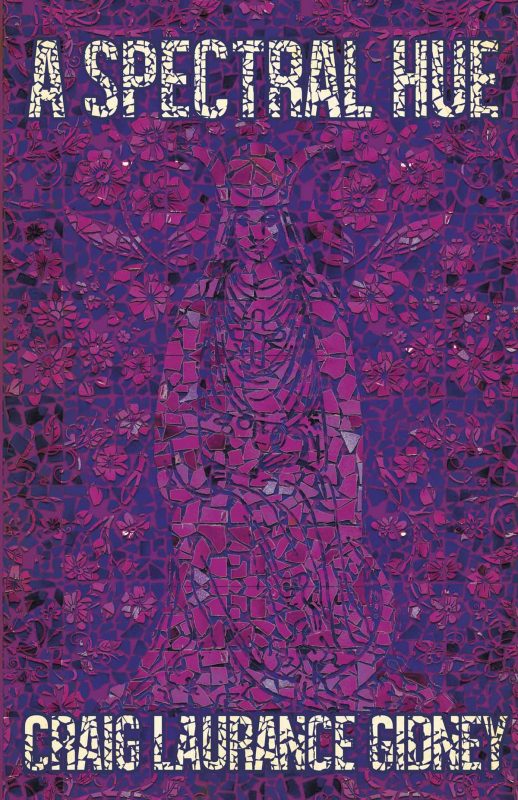 From Lambda Literary Award-nominated author Craig Laurance Gidney comes A Spectral Hue, a novel of art, obsession, and the ghosts that haunt us all. Look for A Spectral Hue at better independent booksellers everywhere, and most online retailers. Copies with signed bookplates are available direct from Word Horde.
About the Book
For generations, the marsh-surrounded town of Shimmer, Maryland has played host to a loose movement of African-American artists, all working in different media, but all utilizing the same haunting color. Landscape paintings, trompe l'oeil quilts, decorated dolls, mixed-media assemblages, and more, all featuring the same peculiar hue, a shifting pigment somewhere between purple and pink, the color of the saltmarsh orchid, a rare and indigenous flower.
Graduate student Xavier Wentworth has been drawn to Shimmer, hoping to study the work of artists like quilter Hazel Whitby and landscape painter Shadrach Grayson in detail, having experienced something akin to an epiphany when viewing a Hazel Whitby tapestry as a child. Xavier will find that others, too, have been drawn to Shimmer, called by something more than art, something in the marsh itself, a mysterious, spectral hue.
From Lambda Literary Award-nominated author Craig Laurance Gidney (Sea, Swallow Me & Other Stories, Skin Deep Magic) comes A Spectral Hue, a novel of art, obsession, and the ghosts that haunt us all.
Cover by Matthew Revert
Pub Date: June 18, 2019
Format: Trade Paperback
ISBN-13: 978-1-939905-50-5
Format: eBook
ISBN-13: 978-1-939905-51-2
Reviews
"In one sense, [A Spectral Hue is] a quiet, confidently told tale of identity–gay, black, artistic, and ancestral–that resonates on a wholly realistic level. In another, it's a hybrid of horror, folklore, dark fantasy, and magic realism that whispers and twists." –Jason Heller for NPR
"…this lushly written fantasy raises many questions about the nature of art and its toll on artists and answers few of them. Readers prepared to be disturbed and unsettled will find this novel gripping and immersive." —Publishers Weekly
"Gidney's supernatural conceits are as strong as his character work and because of this, the ending effectively chills." –Carson Winter for Signal Horizon
"A deft look at obsession through a group of outsider artists in touch with something truly outside. A Spectral Hue is the kind of book that creeps up on you, baring its teeth only once you have moved calmly into the depths of its trap." –Brian Evenson, author of Song for the Unraveling of the World
"Elegiac, haunting, humming with strange terror and stranger sorrow, Craig Laurence Gidney's A Spectral Hue shows us a writer in loving command of language and blessed with a penetrating insight into humanity." –Scott R Jones, author of When the Stars are Right
"A town and an art movement arise from a ghostly source in this arresting, hypnotic debut novel from Craig Laurance Gidney. Upon a grim undercoat drawn from America's shameful histories of slavery and homophobic oppression, Gidney masterfully layers a centuries-spanning tale of survival, triumph, and obsession, with a memorable cast of characters linked by a secret both joyous and frightening. No simple tale of terror, A Spectral Hue enthralls as much as it disturbs." –Mike Allen, author of Unseaming and Aftermath of an Industrial Accident
"A Spectral Hue is a subtly disturbing hymn to the joy and terror of working with a muse, to queer passion and creation, and to the power of art to channel both ancestral voices and personal journeys with equal intensity." –Ruthanna Emrys, author of Winter Tide
"Craig Laurance Gidney's A Spectral Hue pulls you inside its spell, haunting you, finding its way deep within the folds of your brain. A Spectral Hue paints dark, hallucinogenic colors deep inside your mind." –John Palisano, Bram Stoker Award-winning author of Ghost Heart, President of The Horror Writers Association
"In A Spectral Hue, Craig Laurence Gidney takes the reader through multiple centuries via a rotating cast of rich characters to weave an eerily colorful ghost story. The artworks, figuratively and literally haunting, evoke the palpable magic one feels in the presence of such work. It's all held together by the thread of an enigmatic, influential presence in the Mid-Atlantic swamp, resulting in a quietly spooky, sometimes sensual book that is easy to get lost in." –David Busboom, author of Nightbird
"A Spectral Hue might just be a horror story–though if it is, I've never read another so full of beauty, found family, and the rapture of art, rather than terror or gore. This novel undertakes to bring the forgotten back into memory, the marginalized into the very center, and all while originating a new and phantasmagoric mythos that is diversely queer and profoundly African American. What a dark and wonderful undertaking!" –Kai Ashante Wilson, author of A Taste of Honey
"This is the book we have been waiting for. One of our best short fiction writers finally brings his edgy scary sexy gifts to bear on a novel. A brilliant concept, gorgeously executed. Haunting and unforgettable. Go ahead and give it all the awards right now." –Sam J. Miller, Nebula Award-winning author of Blackfish City
Disclosure of Material Connection: Some of the links in the page above are "affiliate links." This means if you click on the link and purchase the item, I will receive an affiliate commission. I am disclosing this in accordance with the Federal Trade Commission's
16 CFR, Part 255
: "Guides Concerning the Use of Endorsements and Testimonials in Advertising."