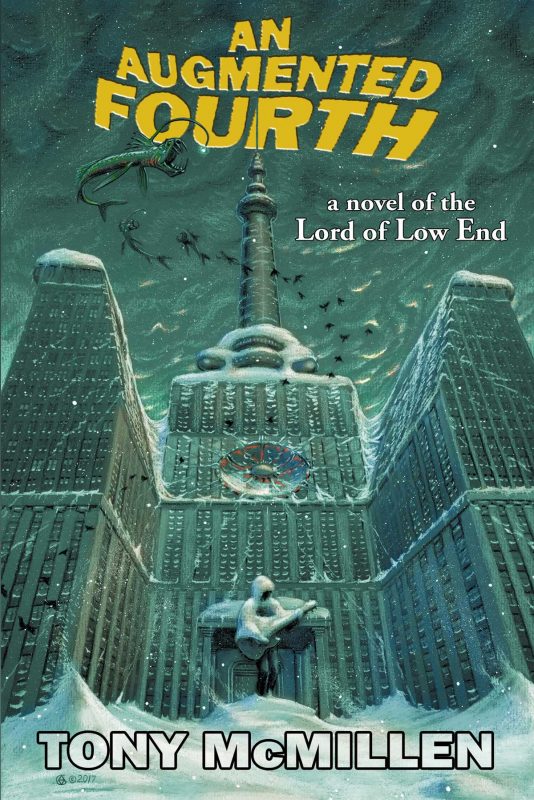 From the twisted mind of Tony McMillen comes the hilarious rock and roll horror of An Augmented Fourth, a novel of the Lord of Low End. Look for An Augmented Fourth at better independent booksellers everywhere, and most online retailers. Copies with signed bookplates are available direct from Word Horde.
About the Book
A Novel of the Lord of Low End
Codger Burton, bassist and lyricist for Frivolous Black, the heaviest heavy metal band to ever come out of the UK, awakens to find his hotel snowed in, his band mates evacuated, and monsters roaming the halls. Looks like Codger picked the wrong week to quit using cocaine. From the twisted mind of Tony McMillen comes the hilarious rock and roll horror of An Augmented Fourth, a novel of the Lord of Low End.
Cover Art by Alan M. Clark
Cover Design by Scott R Jones
Pub Date: June 27, 2017
Format: Trade Paperback
ISBN-13: 978-1-939905-31-4
Format: eBook
ISBN-13: 978-1-939905-32-1

Reviews
"Tony McMillen's An Augmented Fourth (2017) is heavy metal rock and roll horror at its wailing-guitar best. Set in 1980, the point of transition from heavy metal to punk, An Augmented Fourth blends inter-dimensional eldritch horror, David-Cronenberg-movie grotesquerie, and psychedelia in a thrash-metal twenty-minute-guitar-solo of a story." –Marion Deeds, Fantasy Literature
"This is a wildly entertaining novel that is both a hilarious deconstruction and a tender love letter to rock and roll. McMillen has a knack for dialogue and that helps the action and the story move forward at breakneck speed. […] If you think you'd dig watching a psychedelia-infused version of The Thing while blasting awesome tunes and having a great acid trip, then you need to pick this one up." –Gabino Iglesias, LitReactor
"An arcane cosmic horror descends on the day of a heavy metal musician whose own music might just have been the dagger that sliced open the veil between the worlds. Tony McMillen's novel is love letter pastiche to the occult mythos of rock by way of a mystically-tuned hotel, tentacled horrors, and inter-band relationships, as well as the real-life toll of a debauched life. McMillen's love of music and occulture is infectious. An Augmented Fourth has me wanting to search for hidden clues on my old album covers all over again." –Peter Bebergal, author of Season of the Witch: How the Occult Saved Rock and Roll
"Tony McMillen's rock and roll fantasy is a fucking blast. This thinly veiled misadventure combines proto-metal lore with Lovecraftian tradition to birth a heavy hybrid written at maximum volume. Behind the music, in a world much like our own, the devil's chord, church bells, rain, thunder, and weed all coalesce around a hilarious narrative that takes Frivolous Black bassist Codger Burton through withdrawals, cosmic tribulations, metamorphosis, Brummie banter, and world-shaking epiphanies. Tune in, turn on, rock out." –Nathan Carson, author of Starr Creek
"Since Nefarious Twit, Tony McMillen has become one of the most unique writers I've read. Over the past weekend I had the great pleasure of cracking his forthcoming, An Augmented Fourth–it's metal to the balls The Thing meets Black Sabbath riffing Thunderhorse cranked to 11. You guys are in for a treat come June." –Chris Irvin, author of Ragged and Federales
"It would take a real virtuoso to properly blend The Thing, The Mist, Black Sabbath, and Bowie into one rollicking, comical cosmic horror tribute to early metal and the dark beyond. Lucky for us, Tony McMillen has the chops to make this mutant beast fly on blessed black wings. An Augmented Fourth is a strange, sludgy, progged-out blast!" –Jeremy Robert Johnson, author of Skullcrack City and Entropy in Bloom
"A ferocious and funny read, full of foot-chases, body horrors, and the requisite screeching monster immolation or two, even some fun wish-fulfillment for connoisseurs of heavy-metal cover art as one of the band's mystery models literally jumps off one of their albums and into the action. […] To put it all in clearer terms for easier shelving at the video store, think This Is Spinal Tap meets The Thing meets From Beyond. Actually, there wasn't a shelf for the new genre he's conjured up here, but there should have been. In the meantime, I'll be over there waiting for the soundtrack LP so I can scratch it up playing backwards messages." –David James Keaton, author of The Last Projector
Media Files
Book Trailer: An Augmented Fourth

Sell Sheet: An Augmented Fourth | 971KB PDF |

Hi-Res Cover Image: An Augmented Fourth | 4.74MB JPG |

Disclosure of Material Connection: Some of the links in the page above are "affiliate links." This means if you click on the link and purchase the item, I will receive an affiliate commission. I am disclosing this in accordance with the Federal Trade Commission's
16 CFR, Part 255
: "Guides Concerning the Use of Endorsements and Testimonials in Advertising."