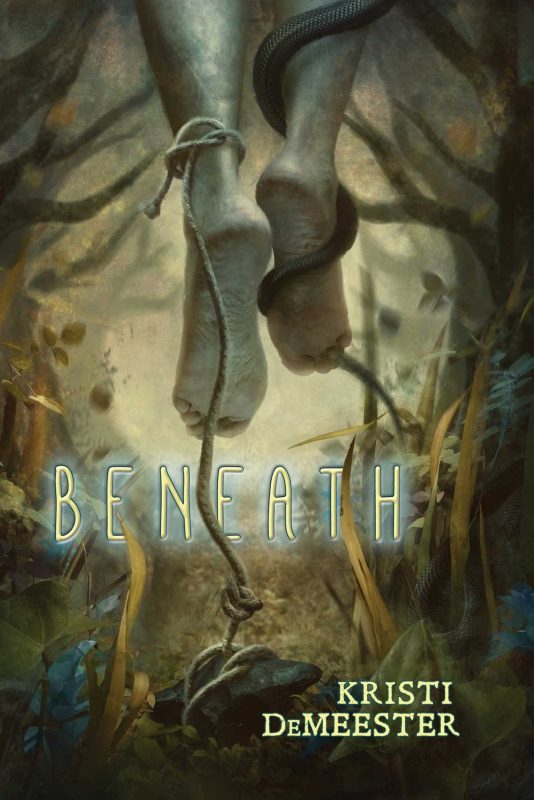 From Kristi DeMeester comes debut novel Beneath, a tale of long-buried memories, forgotten horrors, and pure terror. Look for Beneath at better independent booksellers everywhere, and most online retailers. Copies with signed bookplates are available direct from Word Horde.
About the Book
When reporter Cora Mayburn is assigned to cover a story about a snake-handling cult in rural Appalachia, she is dismayed, for the world of cruel fundamentalist stricture, repression, glossolalia, and abuse is something she has long since put behind her in favor of a more tolerant urban existence. But she accepts the assignment, dredging up long-buried memories as she seeks the truth.
As Cora begins to uncover the secrets concealed by a veneer of faith and tradition, something ancient and long concealed begins to awaken. What secrets do the townsfolk know? What might the handsome young pastor be hiding? What will happen when occulted horrors writhe to the surface, when pallid and forgotten things rise to reclaim the Earth?
Will Cora–and the earth–survive? The answers–and pure terror–can only be found in one place: Beneath.
Cover Art by Marcela Bolívar
Cover Design by Scott R Jones
Pub Date: April 30, 2017
Format: Trade Paperback
ISBN-13: 978-1-939905-29-1
Format: eBook
ISBN-13: 978-1-939905-30-7

Reviews
"Beneath reveals a corruption lurking beneath a rural snake-handling cult, melding nearly-mainstream religiosity with old-world blood superstition in which hypocrisy's evil manifests as physical monsters. DeMeester's debut unwinds like a dark yet brilliant fever dream." —Michael Griffin, author of The Lure of Devouring Light
"Kristi DeMeester is an amazing writer." —The Conqueror Weird
"…a brilliant Cthonic horror fantasia full of creepy religion, grief, pain, sorrow and snakes." —Gemma Files, author of Experimental Film

Disclosure of Material Connection: Some of the links in the page above are "affiliate links." This means if you click on the link and purchase the item, I will receive an affiliate commission. I am disclosing this in accordance with the Federal Trade Commission's
16 CFR, Part 255
: "Guides Concerning the Use of Endorsements and Testimonials in Advertising."