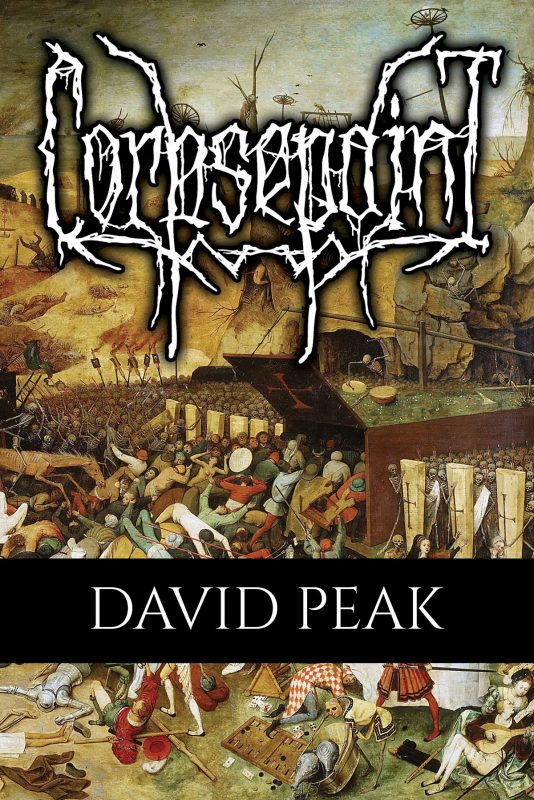 From David Peak (The Spectacle of the Void) comes Corpsepaint, a novel of black metal brutality, human malevolence, and pure cosmic horror. Look for Corpsepaint at better independent booksellers everywhere, and most online retailers. Copies with signed bookplates are available direct from Word Horde.
About the Book
It's been years since the groundbreaking debut of black metal band Angelus Mortis, and that first album,
Henosis
, has become a classic of the genre, a harrowing primal scream of rage and anger. With the next two albums,
Fields of Punishment
and
Telos
, Angelus Mortis cemented a reputation for uncompromising, aggressive music, impressing critics and fans alike. But the road to success is littered with temptation, and over the next decade, Angelus Mortis's leader, Max, better known as Strigoi, became infamous for bad associations and worse behavior, burning through side-men and alienating fans.
Today, at the request of their record label, Max and new drummer Roland are traveling to Ukraine to record a comeback album with the famously reclusive cult act Wisdom of Silenus. What they discover when they get there will go far deeper than the aesthetics of the genre, and the music they create–antihuman, antilife–ultimately becomes a weapon unto itself.
Equally inspired by the fractured, nightmarish novels of John Hawkes, the blackened dreamscapes of cosmic-pessimist philosophy, and the music of second-wave black metal bands, author David Peak's Corpsepaint is an exploration of creative people summoning destructive powers while struggling to express what it means to be human.
Cover Art by Pieter Bruegel the Elder
Cover Design by Scott R Jones
Pub Date: April 30, 2018
Format: Trade Paperback
ISBN-13: 978-1-939905-38-3
Format: eBook
ISBN-13: 978-1-939905-39-0
Reviews
"Corpsepaint is an imaginative, doom-laden foray into the contested domain coupling black metal's disabused hostility to liberal-capitalist ideology with an ethereal and perforce transgressive henosis of hate." –Edia Connole, co-author of Floating Tomb: Black Metal Theory
"Novels about rock bands are usually just that: novels about rock bands: depictions, imitations. Peak's Corpsepaint is much more than that. It captures the dark spirit, howling aesthetic and nihilistic philosophy of black metal and makes it the motor of the fiction. A grim and unforgiving book that steps deeply into the darkness and invites you to follow." –Brian Evenson, author of A Collapse of Horses
"Beautifully, wonderfully, tragically dismal! Thought provoking horror that reaches deep inside you, rips out your still-beating heart, then asks you to consider what it means." –Amber Fallon, author of The Warblers
"Sliding into darkness and doom like a tourbus on black ice, Corpsepaint starts harder and darker than most poser potboilers finish, with a true metalhead's understanding that the real demons of nihilistic aggression and self-destruction are more diabolical than anything Tipper Gore thought she heard playing Stained Class backwards. When the amoral engine of metal madness reveals its true philosophy and purpose, the grimy walls falls away and the intimate green-room misery becomes a coldly glorious symphony of cosmic horror. Get in the pit with this one. You won't want to come out… and it won't let you." –Cody Goodfellow, Wonderland Award-winning author of All-Monster Action and Sleazeland
"A work of true cosmic horror set in the death-tinged world of the black metal scene. Peak drags the reader below ground to confront forces seeking to spread a powerful, ancient darkness. Corpsepaint is a bleak, terrifying ride." –Michael Griffin, author of The Human Alchemy
"This book is brutal in the way only stoner metalheads can say the word. But it's also brutal in the way only real lived human suffering is. Total, unending and strangely life affirming if you can manage to walk away from its wreckage in any way intact. Corpsepaint bludgeons the senses with an eerie alchemy of occult dread, jackbooted human malevolence and surprisingly affecting sorrow. The spell cast here by Peak perfectly conjures up a sensation of being lost on a winter night in the woods and knowing that something ancient and inhuman watches your every step, marking you as trespasser and seeing you for what you know you truly are: alone." –Tony McMillen, author of An Augmented Fourth
"Gripping and mythic, bleak in a way that makes nihilism look cozy; if there's a darker metal than black, this book is it." –Christine Morgan, author of The Raven's Table
"Corpsepaint is a bleak descent into the romance of drugs, decay, the occult, and black metal. This one will stay with you like the voice of a choir singing from the surface of long dead distant planets." –Christopher Slatsky, author of Alectryomancer and Other Weird Tales
"Peak knows his metal, and abuses that muse, offering uncanny insight into the frontiers of fringe culture. Max, Roland, and Seph are sadly believable, despite their world being profoundly darker than even they had morbidly dreamed. No punches are pulled. No killer riff left unplayed. Corpsepaint pushed all three of my buttons: Extreme Metal, Lovecraftian Horror, and GOATS!" –Nathan Carson, author of Starr Creek, drummer of Witch Mountain
Disclosure of Material Connection: Some of the links in the page above are "affiliate links." This means if you click on the link and purchase the item, I will receive an affiliate commission. I am disclosing this in accordance with the Federal Trade Commission's
16 CFR, Part 255
: "Guides Concerning the Use of Endorsements and Testimonials in Advertising."