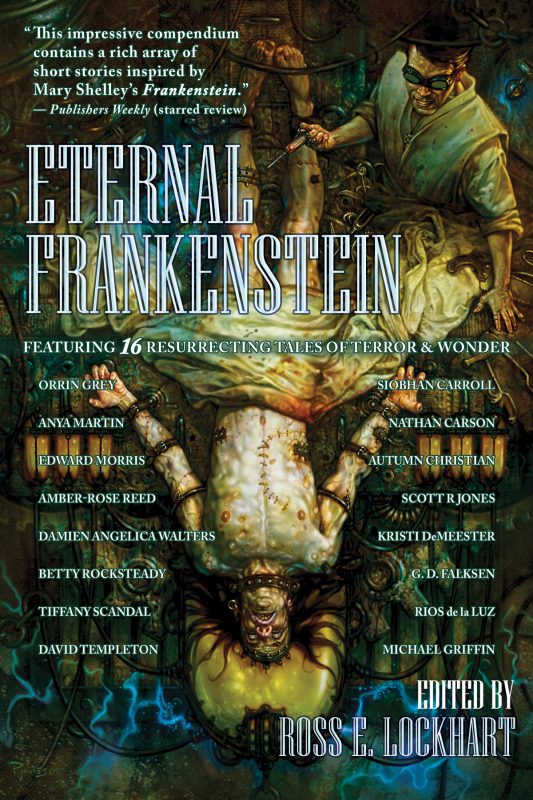 From editor Ross E. Lockhart comes Eternal Frankenstein, a tribute to Mary Shelley, her Monster, and their entwined legacy. Look for Eternal Frankenstein at better independent booksellers everywhere, and most online retailers. Signed copies are available direct from Word Horde.
About the Book
Two hundred years ago, a young woman staying in a chalet in Switzerland, after an evening of ghost stories shared with friends and lovers, had a frightening dream. That dream became the seed that inspired Mary Shelley to write
Frankenstein; or, The Modern Prometheus
, a tale of galvanism, philosophy, and the re-animated dead. Today,
Frankenstein
has become a modern myth without rival, influencing countless works of fiction, music, and film. We all know
Frankenstein
. But how much do we really know about
Frankenstein
?
Word Horde is proud to publish Eternal Frankenstein, an anthology edited by Ross E. Lockhart, paying tribute to Mary Shelley, her Monster, and their entwined legacy.
Featuring sixteen resurrecting tales of terror and wonder by Siobhan Carroll, Nathan Carson, Autumn Christian, Rios de la Luz, Kristi DeMeester, G. D. Falksen, Orrin Grey, Michael Griffin, Scott R. Jones, Anya Martin, Edward Morris, Amber-Rose Reed, Betty Rocksteady, Tiffany Scandal, David Templeton, and Damien Angelica Walters.
Edited by Ross E. Lockhart
Hardcover Cover Art and Design by Matthew Revert
Trade Paperback Cover Art by Patrick Jones
Trade Paperback Cover Design by S. R. Jones
Hardcover Pub Date: October 9, 2016
Trade Paperback Pub Date: February 6, 2018
Format: Hardcover
ISBN-13: 978-1-939905-23-9
Format: Trade Paperback
ISBN-13: 978-1-939905-37-6
Format: eBook
ISBN-13: 978-1-939905-24-6
Table of Contents
Amber-Rose Reed – Torso Heart Head
Siobhan Carroll – Thermidor
Autumn Christian – Sewn Into Her Fingers
Rios de la Luz – Orchids by the Sea
Edward Morris – Frankenstein Triptych
Michael Griffin – The Human Alchemy
Betty Rocksteady – Postpartum
Scott R Jones – Living
Tiffany Scandal – They Call Me Monster
Damien Angelica Walters – Sugar and Spice and Everything Nice
Orrin Grey – Baron von Werewolf Presents: Frankenstein Against the Phantom Planet
Nathan Carson – Wither on the Vine; or Strickfaden's Monster
Anya Martin – The Un-Bride, or No Gods and Marxists
G. D. Falksen – The New Soviet Man
Kristi DeMeester – The Beautiful Thing We Will Become
David Templeton – Mary Shelley's Body

About the Editor
ROSS E. LOCKHART is an author, anthologist, bookseller, editor, and publisher. A lifelong fan of supernatural, fantastic, speculative, and weird fiction, Lockhart is a veteran of small-press publishing, having edited scores of well-regarded novels of horror, fantasy, and science fiction.
Lockhart edited the anthologies The Book of Cthulhu I and II, Tales of Jack the Ripper, The Children of Old Leech: A Tribute to the Carnivorous Cosmos of Laird Barron (with Justin Steele), Giallo Fantastique, and Cthulhu Fhtagn!. He is the author of Chick Bassist. Lockhart lives in a state of quantum flux in Petaluma, California, with his wife Jennifer, hundreds of books (currently residing in boxes), and Elinor Phantom, a Shih Tzu moonlighting as his editorial assistant.
Reviews
"This impressive compendium contains a rich array of short stories inspired by Mary Shelley's Frankenstein. […] All of the writing is high quality, all the stories are suspenseful, and though most involve reanimation of the dead, the perspectives all differ, as do the historical time periods." —Publishers Weekly (starred review)
Disclosure of Material Connection: Some of the links in the page above are "affiliate links." This means if you click on the link and purchase the item, I will receive an affiliate commission. I am disclosing this in accordance with the Federal Trade Commission's
16 CFR, Part 255
: "Guides Concerning the Use of Endorsements and Testimonials in Advertising."