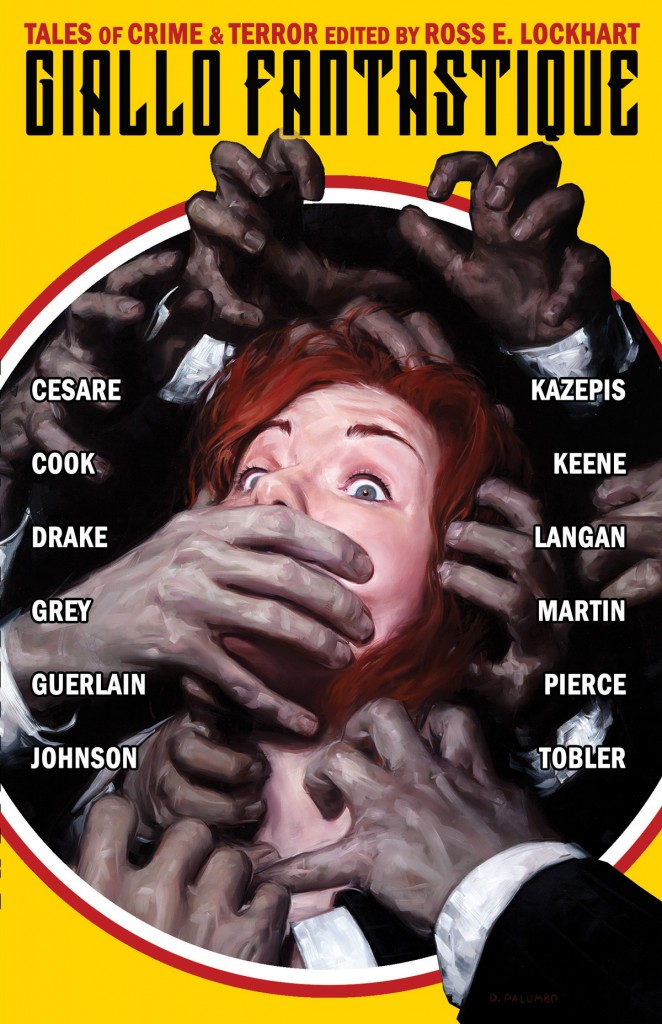 An anthology of original strange stories at the intersection of crime, terror, and supernatural fiction. What's your favorite shade of yellow? Might it be... blood red? Look for Giallo Fantastique at better independent booksellers everywhere, and most online retailers. Signed copies are available direct from Word Horde.
About the Book
An anthology of original strange stories at the intersection of crime, terror, and supernatural fiction. Inspired by and drawing from the highly stylized cinematic thrillers of Argento, Bava, and Fulci; American noir and crime fiction; and the grim fantasies of Edgar Allan Poe, Guy de Maupassant, and Jean Ray,
Giallo Fantastique
seeks to unnerve readers through virtuoso storytelling and startlingly colorful imagery.
What's your favorite shade of Yellow?
Edited by Ross E. Lockhart
Cover Art by David Palumbo
Cover Design by Scott R. Jones
Pub Date: May 15, 2015
Format: Trade Paperback
ISBN-13: 978-1-939905-06-2
Format: eBook
ISBN-13: 978-1-939905-09-3

Table of Contents
Introduction – Ross E. Lockhart
Minerva – Michael Kazepis
In the Flat Light – Adam Cesare
Terror in the House of Broken Belles – Nikki Guerlain
The Strange Vice of ZLA-313 – MP Johnson
Sensoria – Anya Martin
The Red Church – Orrin Grey
Balch Creek – Cameron Pierce
Hello, Handsome – Garrett Cook
We Can Only Become Monsters – Ennis Drake
The Threshold of Waking Light – E. Catherine Tobler
The Communion of Saints – John Langan
Exit Strategies – Brian Keene

About the Editor
ROSS E. LOCKHART is an author, anthologist, editor, and publisher. A lifelong fan of supernatural, fantastic, speculative, and weird fiction, Lockhart is a veteran of small-press publishing, having edited scores of well-regarded novels of horror, fantasy, and science fiction.
Lockhart edited the anthologies The Book of Cthulhu I and II, Tales of Jack the Ripper, and The Children of Old Leech: A Tribute to the Carnivorous Cosmos of Laird Barron (with Justin Steele). He is the author of Chick Bassist. Lockhart lives in an old church in Petaluma, California, with his wife Jennifer, hundreds of books, and Elinor Phantom, a Shih Tzu moonlighting as his editorial assistant.
Reviews
"Lockhart translates giallo fantastique as weird crime, and each story, while very different in style and tone, melds crime and supernatural horror with panache and verve. […] The stories' conclusions are never definitive, leaving the reader with a delicious sense of lingering unease." —Publishers Weekly
"…ultimately satisfying, with a few tales that skirt tantalizingly close to brilliance." –Mer Whinery, Muzzleland Press
Media Files
Sell Sheet: Giallo Fantastique | 762KB PDF |

Hi-Res Cover Image: Giallo Fantastique | 2.12MB JPG |

Disclosure of Material Connection: Some of the links in the page above are "affiliate links." This means if you click on the link and purchase the item, I will receive an affiliate commission. I am disclosing this in accordance with the Federal Trade Commission's
16 CFR, Part 255
: "Guides Concerning the Use of Endorsements and Testimonials in Advertising."