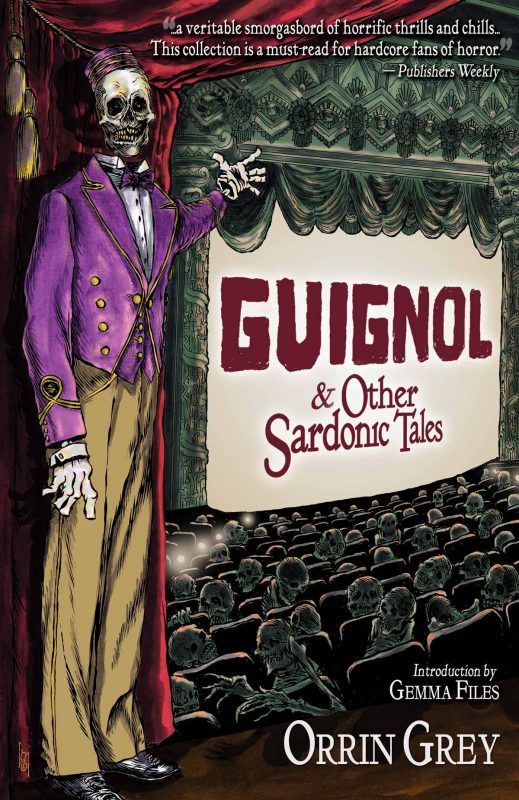 Orrin Grey returns with fourteen peculiar stories of the strange and supernatural. Look for Guignol & Other Sardonic Tales at better independent booksellers everywhere, and most online retailers. Copies with signed bookplates are available direct from Word Horde.

About the Book
"Enter this freakishly inventive cabinet of curiosities if you will, every story providing a redly drippy skull-window straight into the id-vortex of a modern horror master–gape in awe, laugh out loud, feel your mental mouth start to water." —Gemma Files, from the introduction
Orrin Grey has a knack for cruel stories.
Contes Cruel, to be exact.
Sardonic Tales like the fourteen collected here, ready to wrench the reader's emotions, tantalize, and terrify. Drawing inspiration from the likes of Roger Corman, Robert E. Howard, H.P. Lovecraft, the Theatre de Grand Guignol, Universal's monster movies, Hammer horror, kaiju flicks, and more, all while creating something unique, intoxicating, and, yes, cruel.
Guignol & Other Sardonic Tales has something for everyone… even the most jaded readers.
Cover Art by Nick Gucker
Cover Design by Scott R Jones
Pub Date: October 2, 2018
Format: Trade Paperback
ISBN-13: 978-1-939905-42-0
Format: eBook
ISBN-13: 978-1-939905-43-7
Table of Contents
Introduction by Gemma Files
Dream House
The Lesser Keys
Guignol
Shadders
The Blue Light
A Circle That Ever Returneth In
Programmed to Receive
The Well and the Wheel
Haruspicate or Scry
Dark and Deep
Invaders of Gla'aki
Baron von Werewolf Presents: Frankenstein Against the Phantom Planet
The Cult of Headless Men
When a Beast Looks Up at the Stars

Reviews
"…a veritable smorgasbord of horrific thrills and chills. […] This collection is a must-read for hardcore fans of horror…" —Publishers Weekly
"In his third and arguably best collection, Orrin Grey spreads his black wings and takes us on a thrill ride into his limitless imagination. Through musty attics and mist-shrouded crypts, down soot-choked chimneys and into mysterious portals to faraway planets we ride, emerging at the end buzzing, a little dizzy, and most certainly changed. Cinematic, dark, and daring, Guignol is a book that will bring out the monster in you… and let it feed." —Matthew M. Bartlett, author of Gateways to Abomination and Of Doomful Portent
"To say that Orrin Grey is a phenomenal writer is like saying the Phantom of the Opera knew his way around a pipe organ. Nobody evokes classic terrors while simultaneously offering a melancholy, beautifully macabre world as brilliantly as Grey." —Christopher Slatsky, author of Alectryomancer and Other Weird Tales

Disclosure of Material Connection: Some of the links in the page above are "affiliate links." This means if you click on the link and purchase the item, I will receive an affiliate commission. I am disclosing this in accordance with the Federal Trade Commission's
16 CFR, Part 255
: "Guides Concerning the Use of Endorsements and Testimonials in Advertising."