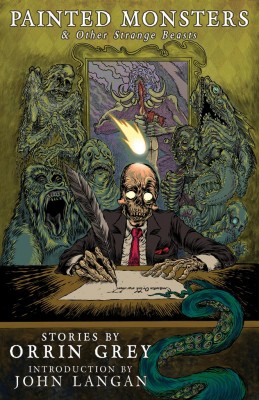 From one of horror fiction's rising stars comes Painted Monsters & Other Strange Beasts, a collection of thirteen tales to haunt your nights. Look for Painted Monsters at better independent booksellers everywhere, and most online retailers. Copies with signed bookplates are available direct from Word Horde.
About the Book
ORRIN GREY LOVES MONSTERS. That is abundantly clear in the stories he spins. No matter where he draws inspiration from, whether the weird tales of Lovecraft, Machen, and Poe or the films of Murnau, Corman, and Argento, the end result is inevitably fresh and new. And wonderfully monstrous.
If you love monsters—the macabre, the murderous, the misunderstood; the strange, the sinister, the sympathetic; the cinematic and the literary—you will find plenty to love in Orrin Grey's Painted Monsters & Other Strange Beasts.
Introduction by John Langan
Cover Art by Nick Gucker
Cover Design by Scott R. Jones
Pub Date: October 31, 2015
Format: Trade Paperback
ISBN-13: 978-1-939905-15-4
Format: eBook
ISBN-13: 978-1-939905-16-1
Table of Contents
Introduction by John Langan
The Worm That Gnaws
The White Prince
Night's Foul Bird
The Murders on Morgue Street*
Ripperology
Walpurgisnacht
The Red Church
Remains
The Labyrinth of Sleep
Lovecrafting
Persistence of Vision
Strange Beast*
Painted Monsters*
*Titles marked with an asterisk are original to the collection

Reviews
"…reminiscent of the works of Klein, Brite and even good ol' Lovecraft in narrative." —Shock Totem
"Painted Monsters & Other Strange Beasts is a fantastic follow-up to Grey's first collection, Never Bet the Devil. This is the kind of writing that shows what can still be done with the classical weird." —Laird Barron, author of The Beautiful Thing That Awaits Us All
"The ghosts of old movie monsters stalk the pages of Orrin Grey's second collection. Here we find grave robbers and haunted houses side-by-side with vampires and kaiju. 'The Red Church' even features a serial killer who could have been taken (or is that sliced?) straight out of an Argento film. But it's the great German Expressionist F.W. Murnau whose influence is perhaps felt most keenly. In the title piece, Nosferatu's Count Orlok is recast as a reclusive Mexican auteur, while Murnau's Faust provides the dramatic images which close out the eerily beautiful 'Night's Foul Bird.' Such haunting scenes recur throughout Painted Monsters, spaced together as closely as the stills on a film-strip and coaxed into motion by Grey's rapid-fire pacing. This is an outstanding collection, one to which you will return again and again long after the house lights have come up." —Daniel Mills, author of The Lord Came at Twilight
"The horror genre is a many splintered thing. Grey collects those splinters, mixes and matches them, concocting a beast of a collection that is as fun as it is scary, as charming as it is chilling." —Philip Gelatt, writer of Europa Report and Petrograd, director of The Bleeding House
"In his latest collection, Orrin Grey not only pays homage to the classic horror films of yesteryear, he tears down the silver screen to reveal the true horrors that lurk on the other side. Fans of H. P. Lovecraft, Vincent Price, and the Hammer horror films will feel right at home." —Ian Rogers, author of Every House Is Haunted
"Orrin Grey's work specializes in old-school horror iconography—Universal monster movies, Roger Corman Poe adaptations, found footage epistolary narratives—run through a pop-culture blender set on frappé, and Painted Monsters (whose title derives from a quote from Peter Bogdanovich's Targets, with old Boris Karloff playing a version of himself while commenting on a version of his career) proves no exception to this rule. The result: inventive, assonant, literally dreadful. If you're looking for something between Ray Bradbury's headlong genre-bending fabulist glee and the Insidious movie franchise's unapologetic vaudeville creep, then Grey's your man." —Gemma Files, author of Experimental Film
"Orrin Grey's roots (or should I say tentacles?) run deep, squeezing the best from horrors both classic and obscure, twisting them in his own particular way. He's a fine storyteller who'll pull you in, and so will Painted Monsters. Don't miss it!" —Norman Partridge, author of Dark Harvest

Disclosure of Material Connection: Some of the links in the page above are "affiliate links." This means if you click on the link and purchase the item, I will receive an affiliate commission. I am disclosing this in accordance with the Federal Trade Commission's
16 CFR, Part 255
: "Guides Concerning the Use of Endorsements and Testimonials in Advertising."