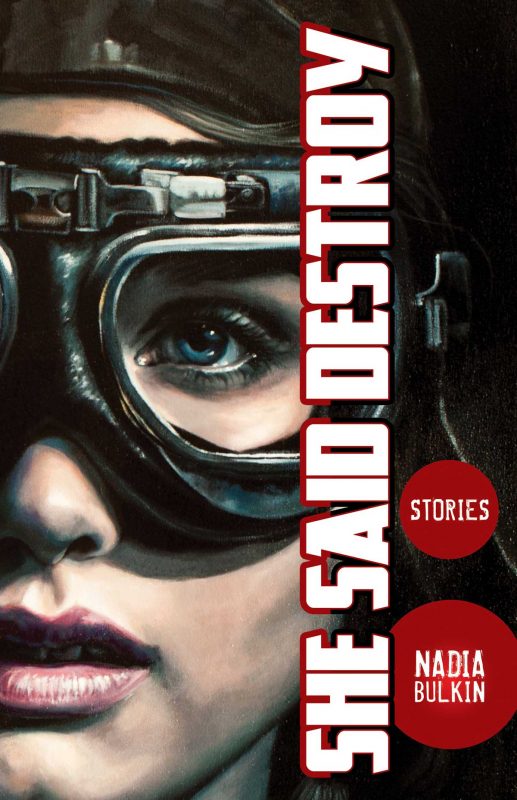 Nadia Bulkin's debut collection, She Said Destroy, is filled with haunting and dreamlike tales of horror. Look for She Said Destroy at better independent booksellers everywhere, and most online retailers. Copies with signed bookplates are available direct from Word Horde.
About the Book
A dictator craves love–and horrifying sacrifice–from his subjects; a mother raised in a decaying warren fights to reclaim her stolen daughter; a ghost haunts a luxury hotel in a bloodstained land; a new babysitter uncovers a family curse; a final girl confronts a broken-winged monster…
Word Horde presents the debut collection from critically-acclaimed Weird Fiction author Nadia Bulkin. Dreamlike, poignant, and unabashedly socio-political, She Said Destroy includes three stories nominated for the Shirley Jackson Award, four included in Year's Best anthologies, and one original tale.
Cover Art by Kathrin Longhurst
Cover Design by Scott R Jones
Pub Date: August 20, 2017
Format: Trade Paperback
ISBN-13: 978-1-939905-33-8
Format: eBook
ISBN-13: 978-1-939905-34-5

Table of Contents
Introduction by Paul Tremblay
Intertropical Convergence Zone
The Five Stages of Grief
And When She Was Bad
Only Unity Saves the Damned
Pugelbone
Red Goat, Black Goat
Seven Minutes in Heaven
Girl, I Love You
Endless Life
Violet is the Color of Your Energy
Truth is Order and Order is Truth
Absolute Zero
No Gods, No Masters

Reviews
"Bulkin serves up cerebral horror with plenty of bite." —Publishers Weekly (starred review)
"Weird fiction has been stuck in the era of new-fangled radio sets and fifteen-cent pulp magazines for ninety years. Finally, Nadia Bulkin has come to drag us kicking and screaming into the horrors of The Endless Now with a collection of hip, ultracontemporary, politically astute, and chilling stories." –Nick Mamatas, author of I Am Providence and The Last Weekend
"Bulkin delivers a dose of delicious darkness with her debut collection." –World Fantasy Award-winning editor Silvia Moreno-Garcia
"An expert balance of the fantastic and horrific, She Said Destroy is a prime example of how modern fabulism continues to reinvigorate and reinvent all modes of speculative fiction. This book is inventive, insightful, and inspiring, not to mention unnerving. The stories inside deftly blend the horrors of the cosmic with those of the personal, evoking awe both terrifying and sublime. Nadia Bulkin's writing is beautiful, exciting, and a stellar contribution to the field of fantastic literature." –Simon Strantzas, author of Burnt Black Suns
"I've been telling people about Nadia Bulkin since the moment I read the first short story of hers I ever ran across, 'Intertropical Convergence Zone,' and apparently, this sets me apart from exactly no one. Which is only as it should be–Nadia is the coming storm, a 21st-century baby whose particular brand of politicalpunk witchcraft should determine the way the wind blows over horror's next few decades. She's exactly the sort of fabulist we most deserve, especially in this potentially catastrophic era… one who casts a cold, assessing eye over the wreckage before cobbling it together into the image of some loathsome new god, the kind that runs on blood worship and drunken karmic nihilism. And when we're all down in the mud crying and cutting each other like good little cultists, pinned flat by the weight of her shadow, I can only aspire to be the first to admit we did this to ourselves." –Gemma Files, author of Experimental Film
"Horror is a tough act to perfect, but time after time, piece after piece, Nadia Bulkin shows us how it's fucking done. Her fiction dances along a razorwire tightrope, juggling the horrific and the grotesque with flourishes of pitch black humor, the darkly fantastical with the achingly real, and more original monsters than a medieval bestiary. This sharp, sinister, and stylish collection encapsulates why Bulkin is one of my favorite contemporary short story writers." –Jesse Bullington, author of The Enterprise of Death
"The dark stories of She Said Destroy are harrowing, astute tales of horror and the fantastic, vagabond journeys through the regions and classes of today's world, alongside the forgotten and the monstrous. Bulkin's craft is an enlivening, challenging, and distinctive voice that lingers long after reading, and reshapes weird fiction each time." –Andrew S. Fuller, author, editor of Three-lobed Burning Eye magazine
"Nadia Bulkin's unique, intelligent voice captured me the first time I read one of her stories. She's never let me down since!" –Paula Guran, author of The Year's Best Dark Fantasy & Horror
"Nadia Bulkin writes prose like a scalpel, deftly slicing to the beating hearts of her characters and the dilemmas they confront. Impressive in subject and setting, these stories range far and wide through literary and cultural history to find the darkness that threads through the (post) modern world. As substantial a debut as I've seen, and highly recommended." –John Langan, author of The Fisherman
Disclosure of Material Connection: Some of the links in the page above are "affiliate links." This means if you click on the link and purchase the item, I will receive an affiliate commission. I am disclosing this in accordance with the Federal Trade Commission's
16 CFR, Part 255
: "Guides Concerning the Use of Endorsements and Testimonials in Advertising."