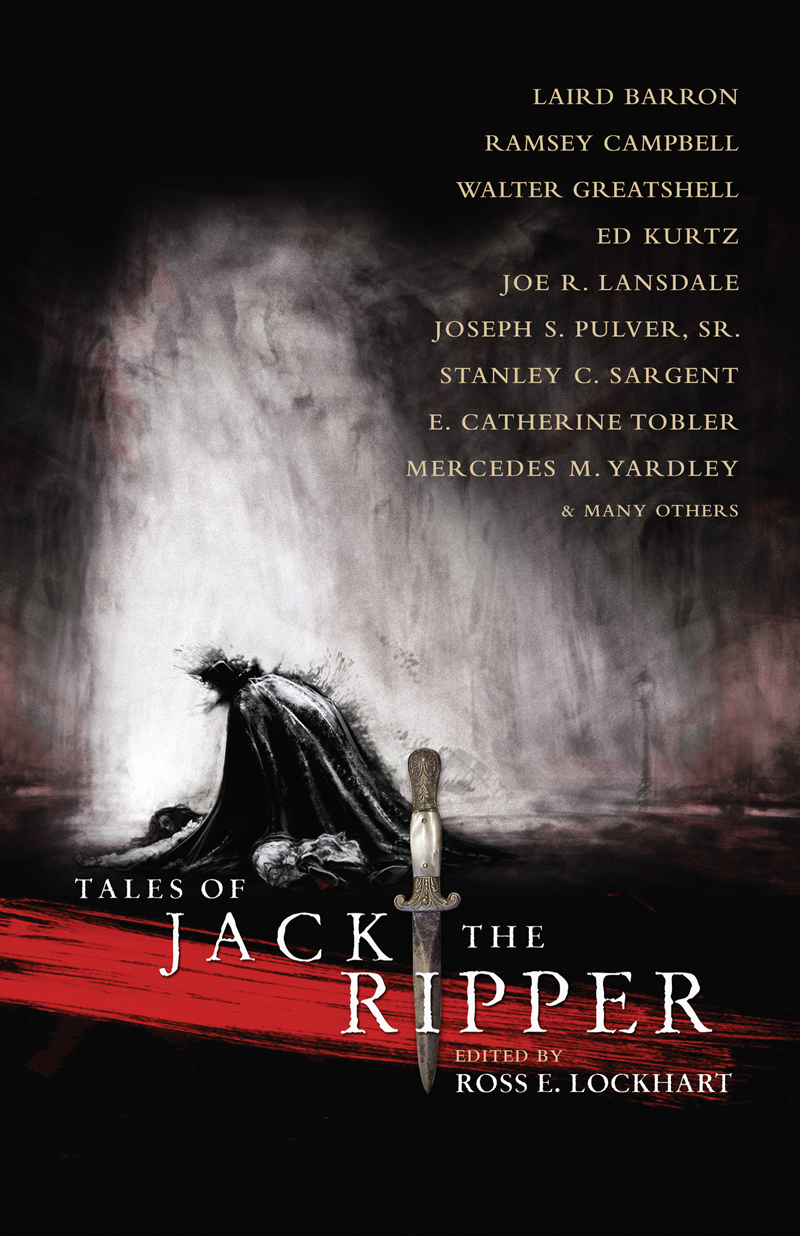 Featuring new and classic fiction from many of the most distinct voices in dark fantasy and horror, Tales of Jack the Ripper celebrates the 125-year literary legacy of Jack the Ripper, the first serial killer to achieve rock star status. Ask for Jack by name at better independent booksellers everywhere, or most online retailers. Signed copies are available direct from Word Horde.
About the Book
1888: One hundred and twenty-five years ago, a killer stalked the streets of London's Whitechapel district, brutally–some would say ritualistically–murdering five women (that we know of): Mary Ann Nichols, Annie Chapman, Elizabeth Stride, Catherine Eddowes, and Mary Jane Kelly.
The story of Jack the Ripper captured lurid headlines and the public's imagination, and the first fictionalization of the Ripper killings, John Francis Brewer's The Curse Upon Mitre Square appeared in October of 1888, mere weeks after the discovery of Jack's first victim. Since then, hundreds of stories have been written about Bloody Jack, his victims, and his legacy. Authors ranging from Marie Belloc Lowndes to Robert Bloch to Harlan Ellison to Roger Zelazny to Alan Moore have added their own tales to the Ripper myth. Now, as we arrive at the quasquicentennial of the murders, we bring you a few tales more.
From Word Horde and the editor who brought you The Book of Cthulhu and The Book of Cthulhu II comes Tales of Jack the Ripper, featuring new and classic fiction by many of today's darkest dreamers, including Laird Barron, Ennis Drake, Orrin Grey, Silvia Moreno-Garcia, Pete Rawlik, E. Catherine Tobler, and many more.
Edited by Ross E. Lockhart
Cover Art by Arnaud de Vallois
Cover Design by Claudia Noble
Pub Date: August 31, 2013
Format: Trade Paperback
ISBN-13: 978-1-939905-00-0
Format: eBook
ISBN-13: 978-1-939905-01-7

Table of Contents
Whitechapel Autumn, 1888 – Ann K. Schwader
A Host of Shadows – Alan M. Clark and Gary A. Braunbeck
Jack's Little Friend – Ramsey Campbell
Abandon All Flesh – Silvia Moreno-Garcia
God of the Razor – Joe R. Lansdale
The Butcher, The Baker, The Candlestick Maker – Ennis Drake
Ripping – Walter Greatshell
Something About Dr. Tumblety – Patrick Tumblety
The Truffle Pig – T.E. Grau
Ripperology – Orrin Grey
Hell Broke Loose – Ed Kurtz
Where Have You Been All My Life? – Edward Morris
Juliette's New Toy – Joseph S. Pulver, Sr.
Villains by Necessity – Pete Rawlik
When the Means Just Defy the End – Stanley C. Sargent
A Pretty for Polly – Mercedes M. Yardley
Termination Dust – Laird Barron
Once November – E. Catherine Tobler
Silver Kisses – Ann K. Schwader
About the Editor
ROSS E. LOCKHART is an author, anthologist, editor, and publisher. A lifelong fan of supernatural, fantastic, speculative, and weird fiction, Lockhart is a veteran of small-press publishing, having edited scores of well-regarded novels of horror, fantasy, and science fiction.
Lockhart edited the anthologies The Book of Cthulhu I and II, Tales of Jack the Ripper, and The Children of Old Leech. He is the author of Chick Bassist. Lockhart lives in an old church in Petaluma, California, with his wife Jennifer, hundreds of books, and Elinor Phantom, a Shih Tzu moonlighting as his editorial assistant.
Reviews
"Tales of Jack the Ripper manages to walk that fine line between entertainment and exploitation with real finesse. It's a gripping group of stories about one of our most enduring mysteries, and well worth your time." ––Blu Gilliand, FEARnet.com
"Editor Ross Lockhart has done a stand-out job with Tales of Jack the Ripper. This one's going out to certain names on my Christmas list, that's for sure. You know the ones. With their 'funny little games'. Recommended." ––Scott R. Jones, Martian Migraine Press
"There is a definite 'weird tale' edge to many of the stories (and poems) in the anthology, which in this reader's opinion is a GREAT thing. It might even be expected from Lockhart, who also brought you The Book of Cthulhu and its follow-up, The Book of Cthulhu 2. This doesn't mean you can pigeonhole Tales of Jack the Ripper. […] You need to get up off your lazy duff and buy this collection." ––Mason Bundschuh, Shock Totem
"Tales of Jack the Ripper marks a strong debut for Word Horde. Lockhart, in usual fashion, has managed to put together a strong, multifaceted anthology that explores the Ripper legend at length. If this book is indicative of what's to be expected from his new press, then readers have much to look forward to." ––Justin Steele, The Arkham Digest
"…there's enough variation of theme and style here to interest almost any crime or horror reader…" ––The Big Click
"Readers interested in Jack the Ripper will love this anthology. Horror fans in general should be quite pleased." ––Lillian Csernica, Tangent
"The bottom line is these are all excellent stories, all about Jack." ––Kat Yares, Hellnotes
"…there are enough original and inventive approaches to this most bedeviling of true-crime mysteries to suggest that Jack the Ripper and the Whitechapel Murders of 1888 will continue to inspire imaginative speculations for some time to come." ––Stefan Dziemianowicz, Locus (Oct 2013)
"Some stories offer interesting alternate identities to the Ripper, some are very suspenseful, and nearly all of them are highly entertaining." ––Don D'Ammassa, Critical Mass
"One rarely finds a collection where all the of the stories are great, and at least one half of this one is made up of very entertaining reading material while the remaining half is still solid enough to merit the attention of horror aficionados and ripperologists everywhere." ––Dejan Ognjanovic, Rue Morgue (Nov 2013)
"Most of the authors explore the Ripper's mind, and it is indeed a place of grue and madness. […] Yet, taken one by one, the stories show a remarkable level of skill and power." ––Richard A. Lupoff, Locus (Dec 2013)

Disclosure of Material Connection: Some of the links in the page above are "affiliate links." This means if you click on the link and purchase the item, I will receive an affiliate commission. I am disclosing this in accordance with the Federal Trade Commission's
16 CFR, Part 255
: "Guides Concerning the Use of Endorsements and Testimonials in Advertising."