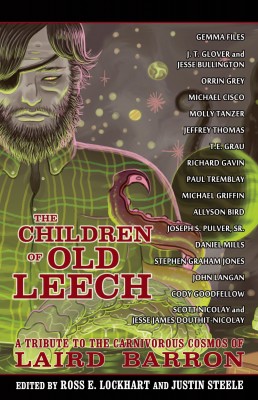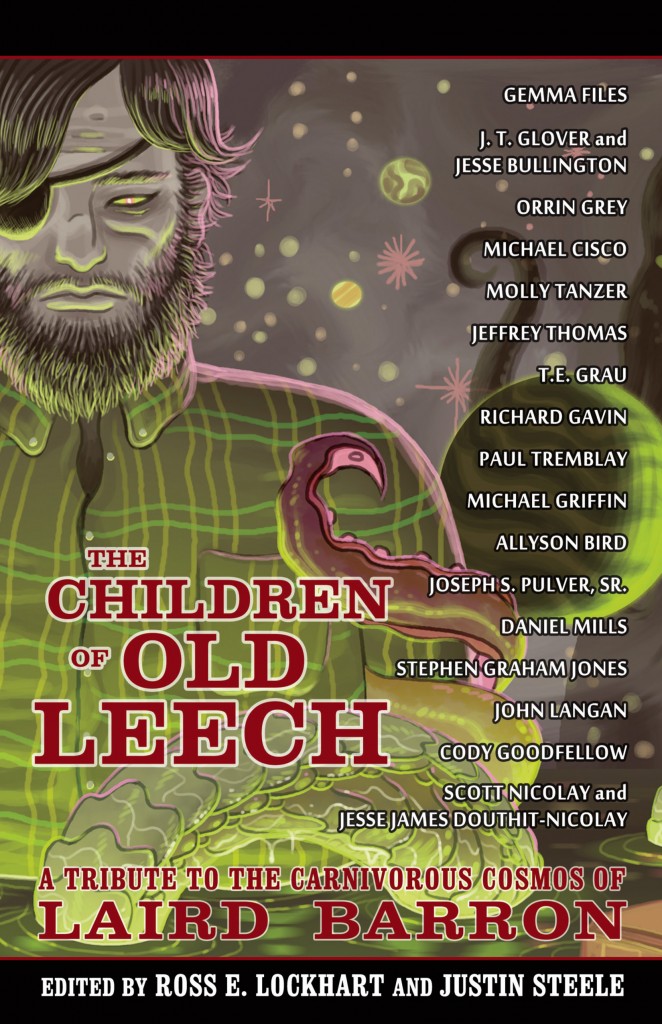 NOMINATED FOR THE SHIRLEY JACKSON AWARD!
Featuring all new stories from many of the brightest lights in dark fiction paying homage to one of horror's masters. Look for The Children of Old Leech at better independent booksellers everywhere, or most online retailers. Signed copies are available direct from Word Horde.
About the Book
A Tribute to the Carnivorous Cosmos of Laird Barron
There are Things – terrifying Things – whispered of in darkened forests beyond the safe comfort of firelight: The Black Guide, the Broken Ouroboros, the Pageant, Belphegor, Old Leech…
These Things have always been here.
They predate you. They will outlast you.
This book pays tribute to those Things.
For We are the Children of Old Leech… and we love you.
Edited by Ross E. Lockhart and Justin Steele
Hardcover Cover Art and Design by Matthew Revert
Trade Paperback Cover Art by Dalton Rose
Trade Paperback Cover Design by Scott R. Jones
Hardcover Pub Date: July 15, 2014
Trade Paperback Pub Date: December 15, 2014
Format: Hardcover
ISBN-13: 978-1-939905-02-4
Format: Trade Paperback
ISBN-13: 978-1-939905-07-9
Format: eBook
ISBN-13: 978-1-939905-03-1
Table of Contents
Introduction: Of Whisky and Doppelgängers – Justin Steele
The Harrow – Gemma Files
Pale Apostle – Jesse Bullington and J. T. Glover
Walpurgisnacht – Orrin Grey
Learn to Kill – Michael Cisco
Good Lord, Show Me the Way – Molly Tanzer
Snake Wine – Jeffrey Thomas
Love Songs from the Hydrogen Jukebox – T.E. Grau
The Old Pageant – Richard Gavin
Notes for "The Barn in the Wild" – Paul Tremblay
Firedancing – Michael Griffin
The Golden Stars at Night – Allyson Bird
The Last Crossroads on a Calendar of Yesterdays – Joseph S. Pulver, Sr.
The Woman in the Wood – Daniel Mills
Brushdogs – Stephen Graham Jones
Ymir – John Langan
Of a Thousand Cuts – Cody Goodfellow
Tenebrionidae – Scott Nicolay and Jesse James Douthit-Nicolay
Afterword – Ross E. Lockhart
About the Editors
ROSS E. LOCKHART is an author, anthologist, editor, and publisher. A lifelong fan of supernatural, fantastic, speculative, and weird fiction, Lockhart is a veteran of small-press publishing, having edited scores of well-regarded novels of horror, fantasy, and science fiction.
Lockhart edited the anthologies The Book of Cthulhu I and II, Tales of Jack the Ripper, and The Children of Old Leech. He is the author of Chick Bassist. Lockhart lives in an old church in Petaluma, California, with his wife Jennifer, hundreds of books, and Elinor Phantom, a Shih Tzu moonlighting as his editorial assistant.
JUSTIN STEELE spends his days counseling high school students and his nights reading as much dark fiction as he can. He is a resident of Delaware, where he also obtained a Bachelor's in English Literature and a Master's in School Counseling.
In 2012 Steele started his blog, The Arkham Digest, where he writes about horror and weird fiction. When he's not working with students or reading he can usually be found playing with his dogs, Watson and Bella, or cheering on the Baltimore Ravens. The Children of Old Leech is Steele's first published anthology.
Reviews
"Lockhart and Steele collect 17 original stories from some of the shining stars of modern horror, constructing a worm-riddled literary playground from elements of the fiction of horror maestro Laird Barron. The results come across with a coherent feeling of dread, without feeling derivative of the source." ––Publishers Weekly
"This multifaceted grimoire, and the talent associated with it, is staggering to behold. […] Potential readers who are not familiar with Barron's work need not worry. The tales, while sometimes recalling certain tropes or characters from his fiction, can be enjoyed in their own right; and, I must say, the range of styles on display is consistently impressive." ––C.M. Muller, Chthonic Matter
"Each is a class in storytelling, every one is entertaining, and every other one is thought provoking. Lockhart and Steele have a winner on their hands, I think; this is one I'll keep coming back to, much as I do with Laird's work. Reading TCoOL was like standing in that Tree beside that lake in the hills, up to my ankles in smoky rot and grey grubs, unable to move, while the sun dipped down to dusk. Recommended." —Scott R. Jones, Martian Migraine Press
"Each story in The Children of Old Leech leads you deeper and deeper into the 'carnivorous cosmos' of Laird Barron; all the authors here have crafted glorious tributes to the master, faithfully plumbing his Mythos to create a truly stunning collection. […] The Children of Old Leech is a triumph for Lockhart and Steele, and a tremendous gift for purveyors of dark fiction. Look for this volume to be on multiple 'best of' lists this year. Mr Barron would be proud!" —Benito Corral, Betwixt Book Reviews
"The Children of Old Leech is not only an excellent horror anthology, it does a superb job of capturing many of the same themes that Laird Barron is so good at achieving. It showcases some of the best horror talent of today, emulating one of the true masters of the weird that we currently have." —James McGlothlin, Black Gate
"The Children of Old Leech is about paying tribute to a man who has made us be afraid of what lives in the woods in new and terrifying ways, but it also ends up being an outstanding collection of short fiction by some of the best authors out there. Throw in an introduction by Justin Steele and an afterword by Ross E. Lockhart, undoubtedly two of the best dark fiction editors and anthologists, and what you get is a book worthy of being followed into the woods on a dark, moonless night." —Gabino Iglesias, Horror DNA
"This is both a superb collection of dark tales and a testament to the highly developed, involved, and even self-referential status of the new new wave of American horror and weird fiction." —Paul St John Mackintosh, TeleRead

Media Files
Press Release: The Children of Old Leech | 85KB PDF | HTML |

Sell Sheet: The Children of Old Leech | 1.57MB PDF |

Hi-Res Cover Image: The Children of Old Leech – Hardcover | 3.18MB JPG |

Hi-Res Cover Image: The Children of Old Leech – Trade Paperback | 981KB JPG |
Disclosure of Material Connection: Some of the links in the page above are "affiliate links." This means if you click on the link and purchase the item, I will receive an affiliate commission. I am disclosing this in accordance with the Federal Trade Commission's
16 CFR, Part 255
: "Guides Concerning the Use of Endorsements and Testimonials in Advertising."