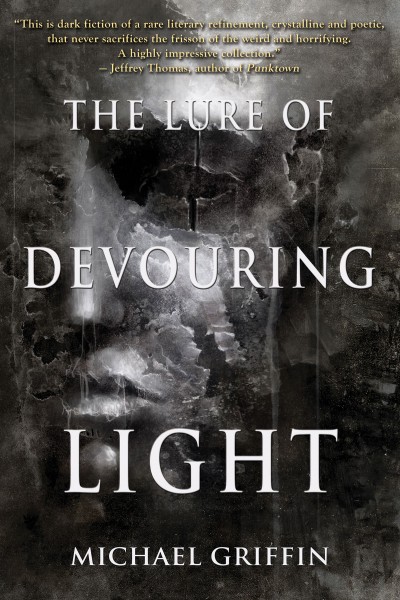 Michael Griffin's debut collection, The Lure of Devouring Light, contains strange and luminous tales of horrors both everyday and supernatural. Look for The Lure of Devouring Light at better independent booksellers everywhere, and most online retailers. Copies with signed bookplates are available direct from Word Horde.

About the Book
Over the last few years, Michael Griffin has been heralded by critics as an author of breathtaking skill, melding the aesthetics of quiet horror, dreamlike wonder, and the strangeness inherent in the classical weird. Readers have sought his stories, scattered throughout prestigious anthologies, magazines, and limited-edition chapbooks, hoping to assemble their own collections of Griffin's ferocious, poetic fiction.
Now, Word Horde presents Michael Griffin's debut collection, The Lure of Devouring Light. Here you will find strange and luminous tales, character-driven, emotionally resonant, and grappling with horrors both everyday and supernatural.
Experience for yourself The Lure of Devouring Light.
Cover Art by Jarek Kubicki
Cover Design by Scott R. Jones
Pub Date: April 30, 2016
Format: Trade Paperback
ISBN-13: 978-1-939905-19-2
Format: eBook
ISBN-13: 978-1-939905-20-8
Table of Contents
Introduction
The Lure of Devouring Light
Dreaming Awake in the Tree of the World
Far From Streets
The Book of Shattered Mornings
Arches and Pillars
Diamond Dust
The Accident of Survival
No Mask to Conceal Her Voice
The Jewel in the Eye
The Need to Desire
The Black Vein Runs Deep

Reviews
"This book is a solid outing from a rising star in horror and dark fantasy." —Publishers Weekly
"Mike Griffin skillfully works the rich seams of quiet horror and contemporary weird. The Lure of Devouring Light is a superb selection of strange stories. It's the kind of debut that should command attention from genre fans and critics." —Laird Barron, author of The Beautiful Thing That Awaits Us All
"Michael Griffin's fiction is sleekly poetic, disorienting, light and fierce. With this debut collection, Griffin establishes himself as a writer of already matured sensibilities, fiercely dedicated to the exploration of pain. Merciless." —Michael Cisco, author of Animal Money
"Often, Mike Griffin's stories isolate an extraordinary dynamic between individuals who can only sustain the strange world they inhabit, secretly and together, with abject devotion to it. Anything short of passion will cause a rift in the narrative they've created, disclosing uncertainty, selfishness, ambition. Opening old wounds, or asking new questions. (For example, is love worthwhile or even possible set against a natural environment we've degraded beyond recognition? Or, what kind of integrity will we maintain if the monsters come for us?) At his finest moments Griffin achieves either a luminous grace or a breathtaking plummet into the unknown. In both cases the shock is earned by the tale that precedes it, and the stakes are as high as they can get. What I admire most (and there is plenty to admire in his writing) is an unforced, elegant ability to make his characters matter to us, in all their preening desire and almost magical expressions, like people we've known, loved, and left behind when all the bad shit happened—but with deep regret." —S.P. Miskowski, author of the Skillute Cycle
"The focus in these stories is often on relationships that cause the characters to analyze how they intersect with the lives of others, and to contemplate their lives as individual beings—these examinations reflected outwardly in an environment of nightmarish disorientation and dreamlike transformation. This is dark fiction of a rare literary refinement, crystalline and poetic, that never sacrifices the frisson of the weird and horrifying. A highly impressive collection." —Jeffrey Thomas, author of Punktown

Disclosure of Material Connection: Some of the links in the page above are "affiliate links." This means if you click on the link and purchase the item, I will receive an affiliate commission. I am disclosing this in accordance with the Federal Trade Commission's
16 CFR, Part 255
: "Guides Concerning the Use of Endorsements and Testimonials in Advertising."