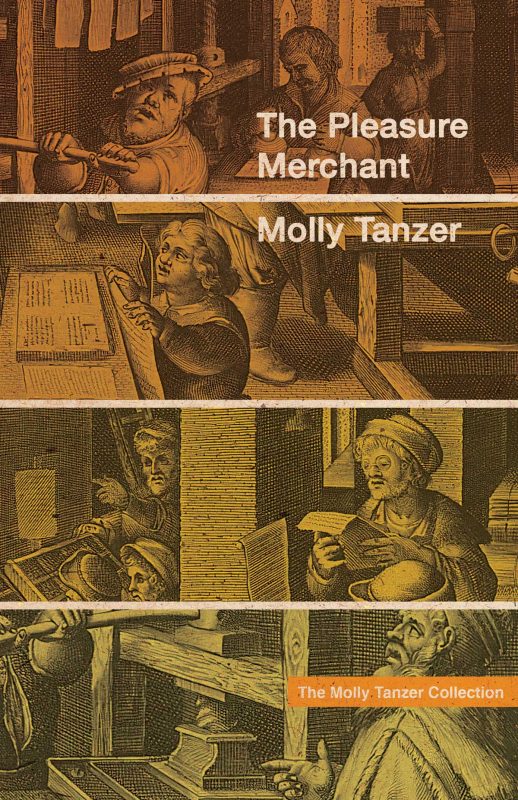 From British Fantasy Award nominee Molly Tanzer comes a novel of despair and desire, equal parts psychological thriller and sensual parlor drama. Look for The Pleasure Merchant at better independent booksellers everywhere, and most online retailers.
About the Book
Word Horde Presents: The Molly Tanzer Collection!
Back in print after some time, this new Author's Preferred Edition of The Pleasure Merchant features refreshed content, new introductory material and notes, and a new Matthew Revert cover!
When apprentice wig-maker Tom Dawne's greatest creation is used as part of a revenge scheme against a powerful gentleman, he is dismissed by his embarrassed master and forced to abandon his dreams of completing his training, setting up a shop of his own, and marrying his master's daughter. Determined to clear his name, Tom becomes the servant of the man he suspects set him up. Tom finds himself caught up in a web of ambition, deceit, mesmerism, sex, and power…and at its center, a man able to procure pleasure for anyone—for a price—and a woman whose past has been stolen.
From Molly Tanzer comes The Pleasure Merchant, a novel of despair and desire, equal parts psychological thriller and sensual parlor drama.
Cover Art and Design by Matthew Revert
Pub Date: May 25, 2021
Format: Trade Paperback
ISBN-13: 978-1-939905-66-6
Format: eBook
ISBN-13: 978-1-939905-67-3
Reviews
"The Pleasure Merchant is a hilarious, sensuous, and ultimately ferocious quasihistorical novel about that most crucial of periods: the dawn of the modern era. The merchant class flexed its muscles, scientists turned their attentions to the workings of the human mind, sexual mores were challenged in public and in secret, and in every corner of society the unseen hand of the marketplace dominated all. Tanzer's clever slicing of the era reveals every social stratum of her world—their conflicts, their compromises, and their kinks. Read this book to learn what you've been soaking in your whole life." —Nick Mamatas, author of Love is the Law and I Am Providence
"Covering the course of a single year, this fascinating novel subverts Pygmalion, rags-to-riches and boy-meets-girl tropes to memorable effect, turning Tom into a tragic figure whose increasing rage against people on the margins of respectable society turns against him in the end. The narrative style is a delightful pastiche of Georgian and Victorian suffused with striking sensuality and modern sensibilities, as if Charles Dickens and Jane Austen had a child together and raised her on shojo and yaoi manga. The voice of the Pleasure Merchant's apprentice will stay with you for days. —The Monitor
"Decadent and smart, artistic without being pretentious, and completely captivating from start to finish, Tanzer's The Pleasure Merchant is the very best sort of literature: a rare pleasure indeed. —Cassandra Koslen, Electric Literature
Other Books in "The Molly Tanzer Collection"
Disclosure of Material Connection: Some of the links in the page above are "affiliate links." This means if you click on the link and purchase the item, I will receive an affiliate commission. I am disclosing this in accordance with the Federal Trade Commission's
16 CFR, Part 255
: "Guides Concerning the Use of Endorsements and Testimonials in Advertising."