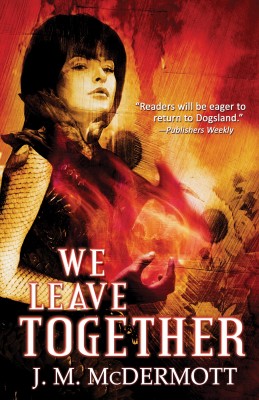 Completing the saga began in the critically-acclaimed novels Never Knew Another (2010) and When We Were Executioners (2011), We Leave Together provides lush, character-driven, fantasy fiction for readers who revel in the small moments, movements, and truths of life. Look for We Leave Together at better independent booksellers everywhere, and most online retailers. Copies with signed bookplates are available direct from Word Horde.
About the Book
In a city where the rich stage decadent parties as the poor suffer in squalor, where assassins prowl and king's men keep order with truncheons and force, where gangs of children run like dogs and addicts die in the streets, a demonic strain has taken hold. The shape shifting priestess and priest of Erin have come to Dogsland stalking a fugitive, half-breed Senta Rachel Nolander, and plot to burn her to cleanse the world of her demon-tainted blood. Led ever onward by Rachel's corrupted lover's crying skull, Erin's agents seek their hapless quarry, a frightened girl guided by one promise, one hope, one prayer…
We Leave Together
.
Cover Art by Julien Alday
Cover Design by Scott R. Jones
Pub Date: June 15, 2014
Format: Trade Paperback
ISBN-13: 978-1-939905-04-8
Format: eBook
ISBN-13: 978-1-939905-05-5

Reviews
"Readers will still find Dogsland a grittily imagined fantasy world, with a personality as vivid as any of its residents." –Publishers Weekly
"Dark, moving, and unique." –Felix Gilman, author of The Half-Made World
"McDermott has, from page one, a powerful and clear storytelling voice, and a strong control over his language. You leave the book utterly invested in all the people you've just met." –SF Signal
Disclosure of Material Connection: Some of the links in the page above are "affiliate links." This means if you click on the link and purchase the item, I will receive an affiliate commission. I am disclosing this in accordance with the Federal Trade Commission's
16 CFR, Part 255
: "Guides Concerning the Use of Endorsements and Testimonials in Advertising."