Remember when horror fiction actually felt transgressive? Like it was something dangerous, something that had the potential do damage. A sort of literary hand grenade, pin pulled, primed and ready to go off. And in exploding, maybe change the world. I do. Once upon a time, horror was ripe with a sense of palpable risk. I felt that sense of danger the first time I read Poppy Z. Brite's Exquisite Corpse, and in Jack Ketchum's The Girl Next Door, and in Ray Garton's Live Girls. I've felt it in King and Keene and Barker and Kiernan. Lately, however, too much horror plays it safe. Warmed-over tropes and familiar monsters. Stories without any real sense of risk, or danger, or transgression. It's enough to make the genre feel almost… cozy.
It's about time someone take you out of your comfort zone. It's about time someone publishes a horror novel that actually aims to horrify. Which is why I've come to you today, to tell you about the debut novel from Nicole Cushing, Mr. Suicide, which Word Horde releases today.
Audaciously written in the second person, Mr. Suicide puts you in the driver's seat as an abused young man is pushed to the breaking point. And Nicole Cushing is the perfect storyteller for this unrelentingly transgressive tale, as evidenced by her 2013 Shirley Jackson Award nomination for her novella Children of No One. Here are just a few of the raves (and warnings) Mr. Suicide has received so far:
"…a work of brutal and extreme horror… disturbingly graphic content…" —Publishers Weekly
"This tale of a damaged and murderous child is the most original horror novel I've read in years. Cushing's prose is rapidfire, grisly, and passionate." —Poppy Z. Brite, author of Exquisite Corpse and Lost Souls
"Novels don't come much more transgressive than this one, folks. Got a taboo? Watch Nicole Cushing grin while she dances all over it. In other hands that might be reason enough for the witty Mr. Suicide to exist. But this is more and better than that—a truly nightmare world, richly imagined, told to us in a canny, subversive second-person voice that makes you, the reader, the hero of this tale, like it or not. That it also manages to be ultimately life-affirming is yet another wonder." —Jack Ketchum, award-winning author of Off Season and The Girl Next Door
"Nicole Cushing uses her sharp and confident prose like a surgical instrument to dissect both her characters and our emotions. Mr. Suicide is horrifying and harrowing, but just as much for the emotional devastation it causes in the reader as for the violence and depravity—as well as the twisted humor—it portrays. This is horror fiction that leaves marks." —Ray Garton, author of Live Girls and Sex and Violence in Hollywood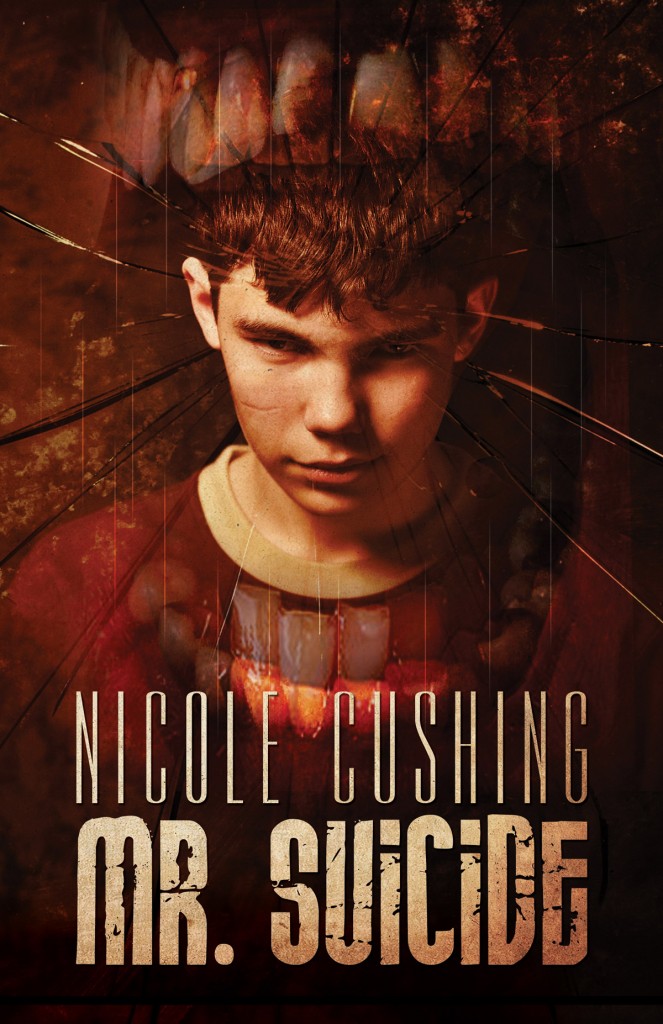 Like everyone else in the world, you've wanted to do things people say you shouldn't do.
How many times in your life have you wanted to slap someone? Really, literally strike them? You can't even begin to count the times. Hundreds. Thousands. You're not exaggerating. You're not engaging in… whatchamacallit? Hyperbole? You're not engaging in hyperbole.
Maybe the impulse flashed through your brain for only a moment, like lightning, when someone tried to skip ahead of you in line at the cafeteria. Hell, at more than one point in your life you've wanted to kill someone; really, literally kill someone. That's not just an expression. Not hyperbole. Then it was gone and replaced by the civilized thought: You can't do that. Not out in public.
But you've had the thought…
Order from Word Horde, Amazon.com, Barnes & Noble, Ziesings, and wherever better books are sold. Ask for Mr. Suicide by name.