Nicole Cushing's A SICK GRAY LAUGH lands today!
Nicole Cushing's A Sick Gray Laugh hits the streets today. Here's just some of what's been said about A Sick Gray Laugh so far…
"A wholly erratic and unstable narrator drives this kooky, outlandish tale. […] Cushing constructs a convincing portrayal of someone rationalizing away their lunacy […] but Cushing keeps it lively with clever parody." —Publishers Weekly
"Cushing has once again delivered an original story that's hard to define, yet manages to bring the chills in a way all its own and seldom seen in genre novels. Don't miss this." –Nick Cato, The Horror Fiction Review
"…it is my opinion that A Sick Gray Laugh is Cushing's masterpiece. […] this is the best horror novel I've read all year, and I strongly suggest you check this out as soon as you can." –Scott Kemper, Signal Horizon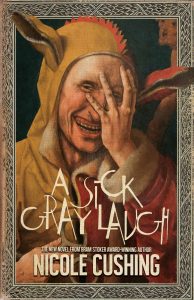 Award-winning author Noelle Cashman is no stranger to depression and anxiety. In fact, her entire authorial brand, showcased in such titles as The Girl with the Gun in Her Mouth, Leather Noose, and The Breath Curse, has been built on the hopeless phantasmagoric visions she experiences when in the grip of paranoid psychosis. But Noelle has had enough, and, author brand be damned, has found help for her illness in the form of an oblong yellow pill, taken twice daily.
Since starting on this medication, Noelle's symptoms have gone into remission. She's taken up jogging. She's joined a softball team. For the first time in Noelle's life, she feels hope. She's even started work on a nonfiction book, a history of her small southern Indiana town.
But then Noelle starts to notice the overwhelming Grayness that dominates her neighborhood, slathered over everything like a thick coat of snot, threatening to assimilate all.
From Bram Stoker Award-winning author Nicole Cushing comes A Sick Gray Laugh, a novel about madness, depression, history, Utopian cults, literature, sports, and all the ways we struggle to stay sane in an insane world.
Ask for A Sick Gray Laugh wherever better books are sold. Or order direct from Word Horde.