Now Available: Guignol & Other Sardonic Tales, by Orrin Grey
Just in time for Halloween, here's Orrin Grey's latest collection, Guignol & Other Sardonic Tales, perfect for getting yourself into a spooky mood. Publishers Weekly calls Guignol & Other Sardonic Tales "a veritable smorgasbord of horrific thrills and chills," and says the collection is "a must-read for hardcore fans of horror." Signal Horizon says, "Guignol is fourteen stories of 'fun horror.' Think Tales From the Crypt, Twilight Zone, Hammer Horror, sci-fi monster flicks from the 50s. Orrin Grey takes the joy of macabre discovery, the energy and excitement of late nights and silver screens, and uses it as the seed to his fiction. In his stories, there is horror, but there is also the wide-eyed wonder of our inner child."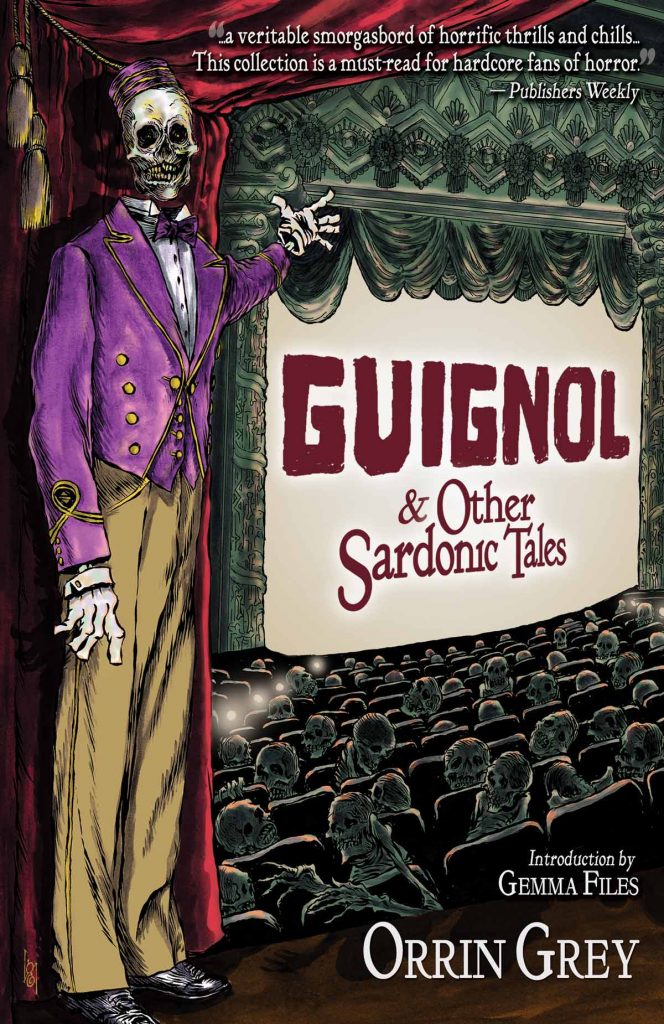 "Enter this freakishly inventive cabinet of curiosities if you will, every story providing a redly drippy skull-window straight into the id-vortex of a modern horror master–gape in awe, laugh out loud, feel your mental mouth start to water." –Gemma Files, from the introduction
Orrin Grey has a knack for cruel stories.
Contes Cruel, to be exact.
Sardonic Tales like the fourteen collected here, ready to wrench the reader's emotions, tantalize, and terrify. Drawing inspiration from the likes of Roger Corman, Robert E. Howard, H.P. Lovecraft, the Theatre de Grand Guignol, Universal's monster movies, Hammer horror, kaiju flicks, and more, all while creating something unique, intoxicating, and, yes, cruel.
Guignol & Other Sardonic Tales has something for everyone… even the most jaded readers.
Ask for Guignol & Other Sardonic Tales where better books are sold, or order direct from Word Horde.