Recently, author Carrie Laben sat down with Amber-Rose Reed to talk about Carrie's debut novel, A Hawk in the Woods. This is their conversation.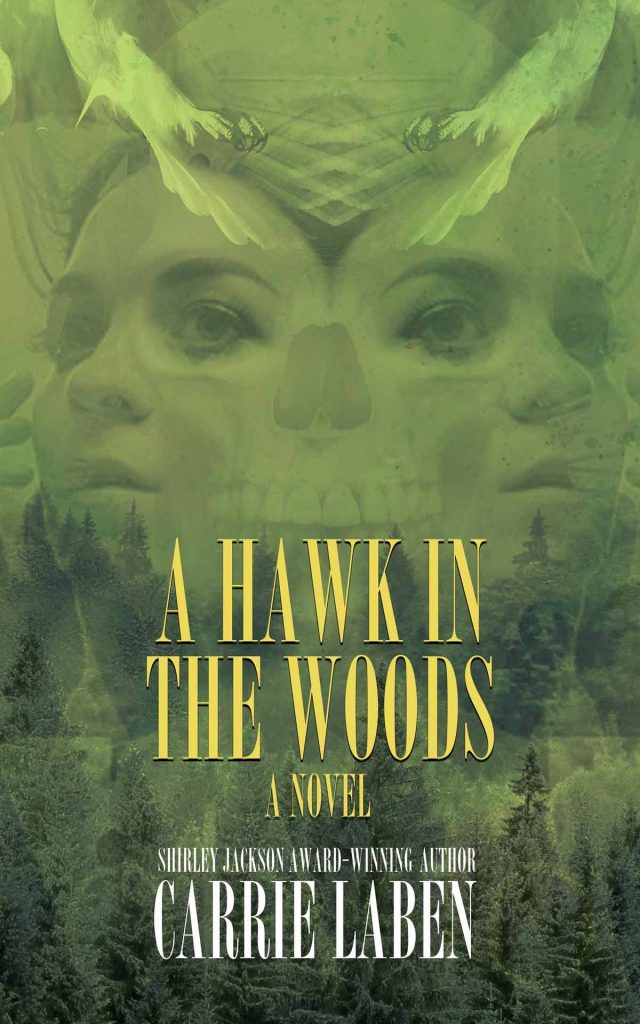 Amber-Rose Reed: A Hawk in the Woods is your debut novel, but you've published a good deal of short fiction. Did you know when you began the book that it would be a novel, or did it grow out of a shorter piece?
Carrie Laben: I knew Hawk would be a book-length project right from the start, because I knew that Abby and Martha would never be coherent characters unless the reader got a full picture of their family background as well as their present-day dilemma. Also, their powers (Martha's in particular) need a fair amount of explanation. Otherwise, they're just two very odd women doing very odd, sometimes unpleasant things.
Amber-Rose Reed: What was your initial inspiration for this book? Was there an idea, an image, or character that struck you and drew you into the story?
Carrie Laben: The initial initial inspiration is rather spoilery — I can, however, say that I drew from several real-life news stories that made a deep impression on me when I was younger, and I wanted to investigate the emotional desperation that might make someone commit the crime that sent Martha to prison. Once I started writing, Abby made sure I never gave up. I wanted to really understand what made someone like her — not exactly a villain, but certainly no hero, and someone whose most positive and most negative traits are closely linked — tick. And I wanted to be able to explain it to other people.
Amber-Rose Reed: There are a lot of disparate threads that weave together in the novel — illness; family history, drama, and trauma; as well as prison breaks and road trips, and of course the supernatural. How did you draw those story elements together into a whole? Were there certain aspects clearer from the beginning?
Carrie Laben: There were many times during the writing of this novel that I compared it to putting an octopus into a laundry basket — no sooner would I get one tentacle in than two more would pop out!  But the family history is the body of that octopus, with everything else growing out of it, so I kept coming back to that and making sure that even the most dramatic scenes flowed naturally out of what I already knew about these characters.
Amber-Rose Reed: Abby's voice is distinctly modern, and some of her experience is very every-day relatable (who amongst us hasn't been mansplained to on Twitter?). However, not all of what she goes through in this novel can be live-tweeted. How did you go about balancing the tone and feel of her every-day modern life, the family history they return to, and the horror aspects of the novel?
Carrie Laben: To me, taking the Lovecraftian and folk-horror elements and putting them in the most modern possible context was part of the fun. After all, if one were to accept that folk horror, or shoggoths, or what have you are part of your characters' universe, they have to coexist with the rest of the universe in some way. Even Twitter. Once I accepted that, the balance came naturally.
Amber-Rose Reed: You've mentioned the folk song "The Cruel Mother" as an influence in the creation of A Hawk in the Woods. There are scenes throughout the book that strongly resonate with that haunting, folk feel and of course, the song itself features. Can you speak to the folk horror aspects of A Hawk in the Woods, and how that framing differs from the cosmic horror elements?
Carrie Laben: Growing up in a rural area with a multi-generational farming family, there are things about folk horror that really do resonate in that setting — especially the sense that there are traditions, patterns, and boundaries for a reason, and when you violate them bad things happen. But at the same time, some of those traditions, patterns, and boundaries are themselves bad things, so it can be a lose-lose proposition. Cosmic horror, of course, holds a slightly different viewpoint — it really doesn't matter if you follow the rules or not. Your personal virtue means nothing. Abby, as befits her role in her family, is what I think of as post-Lovecraftian as well as post-folk-horror — she really doesn't care if the universe gives a damn about her behavior or not, and she certainly doesn't care if breaking with tradition brings down bad things on her head, because she's confident she can master them. She's taking both those horror traditions as part of her heritage and turning them into something new, which incidentally is also what I see horror literature as a field doing right now.
Amber-Rose Reed: And speaking of music, do you listen to music as you write? What (else) would be on your A Hawk in the Woods playlist?
Carrie Laben: I did have a playlist as a matter of fact! I won't bore you with the whole thing, but in addition to three different versions of "The Cruel Mother" it includes "More" by The Sisters of Mercy and "Birds of Hell Awaiting" by Marilyn Manson in a nod to Abby and Martha's high school Goth phase, "Fly" by Nicki Minaj and Rhianna which is definitely on Abby's workout mix,  "Barracuda" by John Cale and "No One's Gonna Love You" by Band of Horses, and quite a bit of Nick Cave. I generally find Nick Cave/Warren Ellis film scores very productive for writing.
Amber-Rose Reed: In addition to fiction, you also write a great deal of non-fiction on nature and birding. Many of your descriptions seem to draw from that experience. How do your research and non-writing hobbies inform and/or influence your writing? And what brought you to bird-watching?
Carrie Laben: Birding is all about close observation of fleeting details, and I think that's the number one way that it contributes to my writing. It also inspires me to pay quite a lot of attention to landscape. Something subtly wrong with a landscape, whether it's a dead tree that keeps growing or a season that changes a bit too fast, can be a quiet but powerful way to signal a much larger problem heading for the characters.
Amber-Rose Reed: Thanks so much!
Carrie Laben: Thanks to you as well.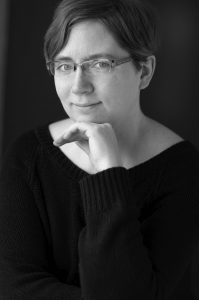 CARRIE LABEN grew up in western New York. She earned her BS at Cornell and later her MFA at the University of Montana. She now lives in Queens, where she spends a lot of time staring at birds.
Her work has appeared in such venues as Birding, Clarkesworld, The Dark, Indiana Review, Okey-Panky, and Outlook Springs. In 2017 she won the Shirley Jackson Award in Short Fiction for her story "Postcards from Natalie" and Duke University's Documentary Essay Prize for the essay "The Wrong Place". In 2015 she was selected for the Anne LaBastille Memorial Writer's Residency, in 2018 she was a MacDowell Fellow, and in 2019 she was a resident at Brush Creek.
A Hawk in the Woods is her first novel. She is currently at work on a book of essays about urban environmentalism.
AMBER-ROSE REED is an avid reader and writer native to the Bay Area. She is an assistant manager at Copperfield's Books, which nurtures her love for book culture, and studied Comparative Literature and History at San Francisco State University. Her short fiction has appeared in Eternal Frankenstein and Tales from a Talking Board.