When the news broke last week that Nicole Cushing had been nominated for the Bram Stoker Award in two categories, for her Word Horde debut novel Mr. Suicide and her Cycatrix Press collection The Mirrors, we knew it was time for a new interview. So here's Sean, talking to Nicole about transgressive horror, awards, writing one of the best books of 2015, and more…
Do you think that works of transgressive horror tend to get less acclaim due to their shocking elements?
It depends on who's bestowing the accolades.
I think I've been given a fair shake by most of the reviewers who've chosen to talk about Mr. Suicide. Peter Tennant of Black Static, Frank Michaels Errington at Cemetery Dance, Nick Cato at The Horror Fiction Review, and George Anderson at Ginger Nuts of Horror all mentioned Mr. Suicide on their lists of the best books of 2015.
But sure, there will always be readers, reviewers, editors and critics who will clutch their proverbial pearls when faced with a book like Mr. Suicide. If everyone liked it, then–by definition–it wouldn't be transgressive.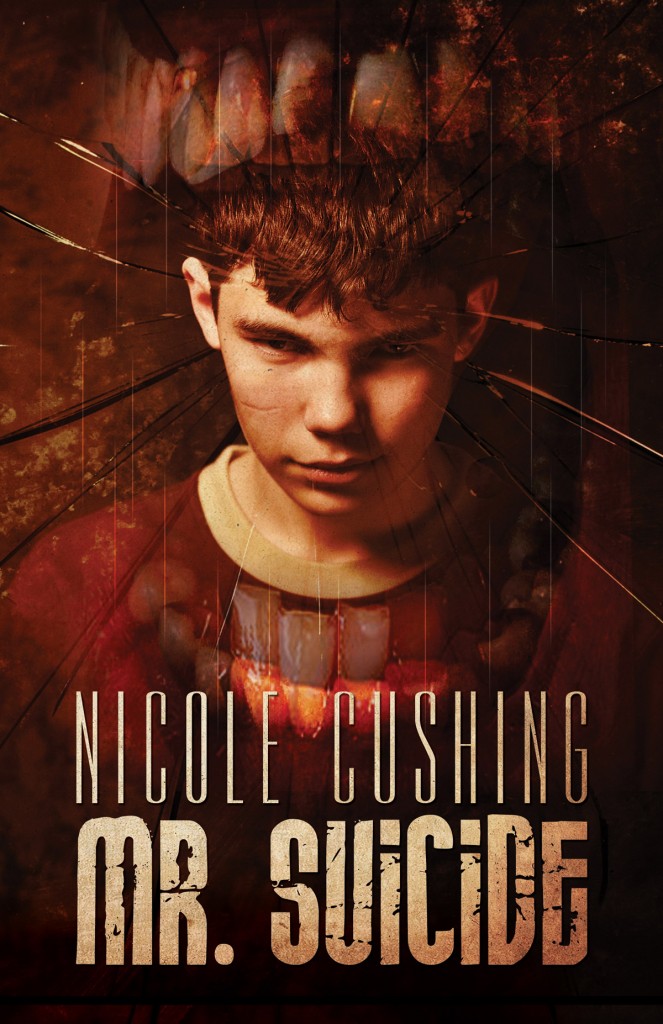 Do you think Mr. Suicide is too controversial for The Stokers?
There's no way for me to answer that question impartially. That question is better answered by readers, reviewers, bloggers, and the voting membership of HWA.
I will say this, though. The very fact that the book garnered a nomination is encouraging. I also take heart from the fact that just last year, the HWA bestowed a lifetime achievement award on Jack Ketchum. So this is an organization that's open to honoring controversial authors.
What do you think the role of genre is in fiction?
Genre labels are there to help readers find writers and vise-versa. And, if that's how the labels are used, I'm cool with them.They only become a problem when they devolve into dismissive stereotypes.
Do you work slow or fast?
It depends on how we define the terms. On the one hand, I think I've managed to be reasonably prolific over the last year or two. On the other hand, I'll likely never be one of those authors who can routinely write three thousand words a day.
I'm a little too obsessive for that. The words don't have to sound pretty, but the sentences do (if that makes any sense). I want the sentences to have the right rhythm, and that takes time.
So I'm a tortoise, slow but steady. I usually can get in around 1200-1700 words a day, when things are going well. Towards the end of a project I find I build momentum and might routinely do 2,000 words a day. But sometimes I have to spend time on the business end of the job and I get very little written.
Do you have any writing rituals?
Rituals? No. Habits? Yes.
I've taken to writing on my laptop while slumped down in my comfy office chair with my feet propped up on a piece of luggage I use as a makeshift ottoman. I have terrible posture and probably look like a loon, while writing.
What do you hope to achieve with your fiction? What emotions do you want to elicit?
When someone reads one of my books, I want them to experience an altered state of consciousness. I want them to experience a waking nightmare that is both weird and utterly convincing. I obviously want this altered state of consciousness to be temporary and voluntary (the reader can always stop it by putting the book down). But I want the ride to be intense, because my life experiences have been intense and intensity seems more honest than coziness.
I'm a traumatized person. To some degree, an alienated person. I've had more than my share of intense emotional ups and downs. All of these facts shape how I look at the world. I suspect that the readers who feel a strong connection with my work are those who can relate to what it's like to be traumatized, alienated, or intensely emotional. Either they've lived a life with similar issues, or they know people who have.
Quiet, subtle horror has its place, but I don't want to write fiction that's gentrified or predictable. I like juxtaposing stretches of quiet horror against moments of graphic horror and moments of graphic horror against moments of absurdity. I feel a novel is a large canvas, so there's room for all of these approaches.
In that way, a horror novel can be a bit like a symphony. If you listen to a Shostakovich symphony, for example, you hear that his work isn't all loud, or all quiet. He juxtaposes stretches of quiet, introspective strings against blasts of monstrous horns and the throbbing of monstrous drums. (A perfect example of this is the final six minutes of the Fourth.) I dedicated Mr. Suicide to another Russian composer, Alfred Schnittke, who possibly went even further than Shostakovich in advancing a so-called "polystylistic" approach. As ridiculous as it may sound to those who think transgressive horror is for boors, Schnittke's Concerto Grosso No. 1 was an inspiration for the polystylism of Mr. Suicide.
Got any pluggy-wugs?
Four, but I'll make them quick.
First, I want to encourage readers to check out my Youtube channel. I've recently started a series of brief (five minute long) videos called Forgotten Lore. Each week I discuss an unjustly-forgotten work of dark fiction from an author who is no longer with us. It's a labor of love and I'm having a lot of fun with it.
Second, I want to mention that my short story collection, The Mirrors (Cycatrix Press), was also nominated for a Bram Stoker Award. It's available at Amazon, directly through Cycatrix Press, and at a couple brick and mortar bookstores.
Third, I want to share the news that my next book, The Sadist's Bible, will be coming out in April from 01 Publishing. You can pre-order from Amazon now.This is a novella weighing in at about 30,000 words. Readers who enjoyed Mr. Suicide will probably dig this one, as well.
And speaking of Mr. Suicide, I should mention that–to celebrate the Bram Stoker Award nomination–Word Horde is taking two bucks off the price of the Kindle edition. It was $4.99 and is now $2.99. It also appears (as I write this) that Amazon has taken ten percent off the price of the paperback So if you've been on the fence about buying it, now's a good time to go ahead.
Still on the fence? Check out this recent review of Mr. Suicide at The Conqueror Weird, in which reviewer Brian O'Connell calls Mr. Suicide "…one of the greatest novels ever written."