It's been a busy year. So busy that it's quite possible you just realized (like us) that the holiday season is in full swing, and that you've got less than two weeks to get your Xmas shopping done. So, we decided to run a last minute year-end coupon. Just use coupon code word2017, and save 30% on all Word Horde books (excluding Scratch-and-Dent titles). Here's where to order:
This year, we published five books: The Raven's Table, by Christine Morgan; Beneath, by Kristi DeMeester; An Augmented Fourth, by Tony McMillen, She Said Destroy, by Nadia Bulkin; and Tales from a Talking Board, edited by Ross E. Lockhart, featuring fourteen all-new stories of the strange and supernatural by Matthew M. Bartlett, Nadia Bulkin, Nathan Carson, Kristi DeMeester, Orrin Grey, Scott R Jones, David James Keaton, Anya Martin, J. M. McDermott, S.P. Miskowski, Amber-Rose Reed, Tiffany Scandal, David Templeton, and Wendy N. Wagner.
We also picked up a few awards, with Word Horde selected as Publisher of the Year 2016, Livia Llewellyn's Furnace receiving Short Story Collection of the Year 2016, and John Langan's The Fisherman landing Novel of the Year 2016 in the This Is Horror Awards, and John Langan's The Fisherman capturing the Bram Stoker Award for Superior Achievement in a Novel. Don't forget to nominate your favorite 2017 Word Horde titles in your favorite genre awards!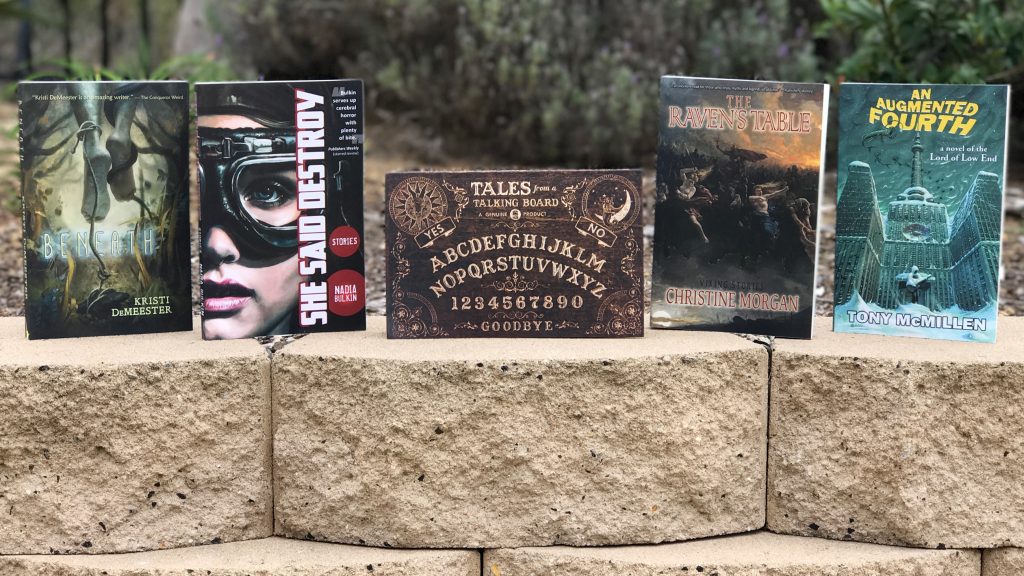 Here's just some of the critical acclaim our 2017 titles have received (so far):
"These works have the sure, solid feel of a talented author deeply engaged with her source material and genre. They're an excellent read for those who enjoy myths and legends of all kinds." —Publishers Weekly (starred review) on The Raven's Table
"The Raven's Table is a must-have for anyone with an interest in stories based on Nordic mythology and lore." —GreyDogTales on The Raven's Table
"This novel is going to propel DeMeester onto that list of authors you'll want to follow." —John Boden, Ginger Nuts of Horror on Beneath
"…one of the most upsetting and horrifying tomes of dark fiction in recent memory." —This Is Horror on Beneath
"Tony McMillen's An Augmented Fourth (2017) is heavy metal rock and roll horror at its wailing-guitar best. Set in 1980, the point of transition from heavy metal to punk, An Augmented Fourth blends inter-dimensional eldritch horror, David-Cronenberg-movie grotesquerie, and psychedelia in a thrash-metal twenty-minute-guitar-solo of a story." —Fantasy Literature
"This is a wildly entertaining novel that is both a hilarious deconstruction and a tender love letter to rock and roll. McMillen has a knack for dialogue and that helps the action and the story move forward at breackneck speed. […] If you think you'd dig watching a psychedelia-infused version of The Thing while blasting awesome tunes and having a great acid trip, then you need to pick this one up." —LitReactor on An Augmented Fourth
"Weird fiction has been stuck in the era of new-fangled radio sets and fifteen-cent pulp magazines for ninety years. Finally, Nadia Bulkin has come to drag us kicking and screaming into the horrors of The Endless Now with a collection of hip, ultracontemporary, politically astute, and chilling stories." —Nick Mamatas, author of I Am Providence on She Said Destroy
"Bulkin delivers a dose of delicious darkness with her debut collection." —World Fantasy Award-winning editor Silvia Moreno-Garcia on She Said Destroy
"Striking debut collection" —The New York Times on She Said Destroy
"Tales from a Talking Board (Word Horde) is a brilliant collection of 14 short stories by some of today's greatest authors, centered around the theme of the Ouija board, in its various forms and incarnations […] It's an eerie compilation of tales that belongs in the personal libraries and/or Kindles of everyone who loves the macabre." —Douglas Cobb, What's New in Book Reviews
"Tales from a Talking Board is a seasonal treat meant for crackling fires in the fireplace and dark spooky evenings. Enjoy." —Marion Deeds, Fantasy Literature
"A blast to read." —TheShadesofOrange on Tales from a Talking Board
Remember: Use coupon code word2017, and save 30% on all Word Horde books (excluding Scratch-and-Dent titles). Here's where to order: