2018 marks the bicentennial of the publication of Mary Shelley's groundbreaking novel, Frankenstein. This February, Word Horde releases tribute anthology Eternal Frankenstein in a colorful new trade paperback edition, featuring cover art by Patrick Jones. This anthology, edited by Ross E. Lockhart, features sixteen original tales of terror and wonder by Siobhan Carroll, Nathan Carson, Autumn Christian, Rios de la Luz, Kristi DeMeester, G. D. Falksen, Orrin Grey, Michael Griffin, Scott R. Jones, Anya Martin, Edward Morris, Amber-Rose Reed, Betty Rocksteady, Tiffany Scandal, David Templeton, and Damien Angelica Walters. Preorder your copy today, or ask for Eternal Frankenstein by name where better books are sold. Here's just some of the critical acclaim Eternal Frankenstein has received so far: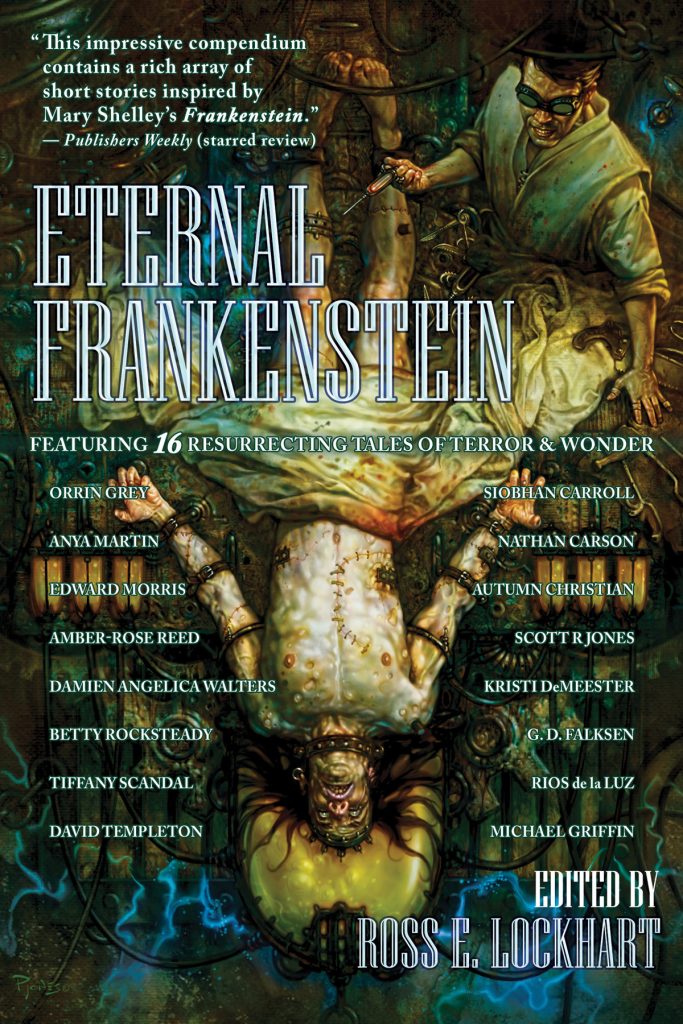 "Ross E. Lockhart and Word Horde have a reputation for putting out some wonderful anthologies, among those are The Book of Cthulhu and Giallo Fantastique. Eternal Frankenstein shines alongside them with an intensely dark and beautifully macabre mix of tales. This anthology is dedicated to Mary, and her monster. The writing within is a true testament to the love shared for the classic penned by Shelley, even after so many years have passed her inspiration endures. Each story is its own take on the making of monsters, the defiance of god and the realization that death can be more than an ending. […] For fans of not only the original monster but those also seeking tales what lies beyond death, from the far away corners of Russia to Hollywood to alternate futures and even your ordinary neighborhood, these stories and characters are sewn together to create one hell of an exquisite monster." —This Is Horror
"This is an anthology of stories that all pay tribute to the Mary Shelley creation. Be it the doctor or his creation, these stories explore many differing interpretations and shades of creation and god complex. Ross E. Lockhart has done a fantastic job of corralling a wonderful selection of intriguing tales, all warming themselves around the same fire. […] I can easily recommend this book, it would make for a most enjoyable winter read, in a drafty castle as one nestles by a roaring fire." —Ginger Nuts of Horror
"Eternal Frankenstein is best read a couple of stories at a time. While the themes and motifs overlap a bit, each author builds a new and fresh creation out of the flesh and blood of monster movies and tales past. Frankenstein transcended the boundaries of life and death and, as this book proves, his legacy—and that of Mary Shelley, his own creator—will live on eternal." —Muzzleland Press
"Lockhart is an insightful and meticulous editor who often picks stories that seem to be in dialogue with each other. […] Like a good selection, there is a type of horror story for every horror reader. If you like Frankenstein, if you wonder about the capability, and morality, of humans creating human life, you should check out Eternal Frankenstein." —Fantasy Literature
"Here's another smash hit from Word Horde … an entire book of new, diverse, wonderfully creepy takes on the classic original tale that launched basically an entire genre." –Christine Morgan, author of The Raven's Table
Order your copy of the Eternal Frankenstein trade paperback today!