Coming this August: The new novel from the Bram Stoker Award-winning author of Mr. Suicide, Nicole Cushing.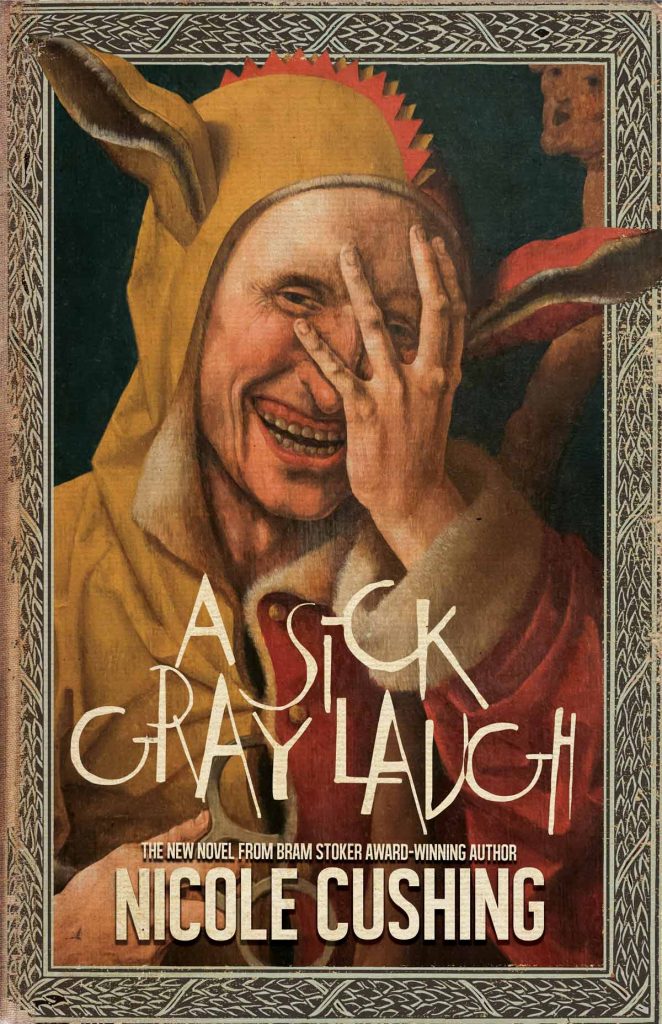 Award-winning author Noelle Cashman is no stranger to depression and anxiety. In fact, her entire authorial brand, showcased in such titles as The Girl with the Gun in Her Mouth, Leather Noose, and The Breath Curse, has been built on the hopeless phantasmagoric visions she experiences when in the grip of paranoid psychosis. But Noelle has had enough, and, author brand be damned, has found help for her illness in the form of an oblong yellow pill, taken twice daily.
Since starting on this medication, Noelle's symptoms have gone into remission. She's taken up jogging. She's joined a softball team. For the first time in Noelle's life, she feels hope. She's even started work on a nonfiction book, a history of her small southern Indiana town.
But then Noelle starts to notice the overwhelming Grayness that dominates her neighborhood, slathered over everything like a thick coat of snot, threatening to assimilate all.
From Bram Stoker Award-winning author Nicole Cushing comes A Sick Gray Laugh, a novel about madness, depression, history, Utopian cults, literature, sports, and all the ways we struggle to stay sane in an insane world.
Praise for Nicole Cushing's Mr. Suicide:
"Nicole Cushing comes in smart and hard, skilled and strange times three. Many aspire. But you can't fake this kind of weird." –John Skipp, author of The Art of Horrible People
"Novels don't come much more transgressive than this one, folks. Got a taboo? Watch Nicole Cushing grin while she dances all over it. In other hands that might be reason enough for the witty Mr. Suicide to exist. But this is more and better than that — a truly nightmare world, richly imagined, told to us in a canny, subversive second-person voice that makes you, the reader, the hero of this tale, like it or not. That it also manages to be ultimately life-affirming is yet another wonder." –Jack Ketchum, award-winning author of Off Season and The Girl Next Door
Cover Art by Jacob Cornelisz van Oostsanen
Cover Art and Design by Matthew Revert
Pub Date: August 27, 2019
Format: Trade Paperback
ISBN-13: 978-1-939905-52-9
Format: eBook
ISBN-13: 978-1-939905-53-6
Preorder your copy today!