This Friday night, October 28 at 7 pm, join us at Copperfield's Books in Petaluma, CA as we launch Eternal Frankenstein. There will be tricks, treats, and author readings by Amber-Rose Reed, Anya Martin, David Templeton, and Ross E. Lockhart.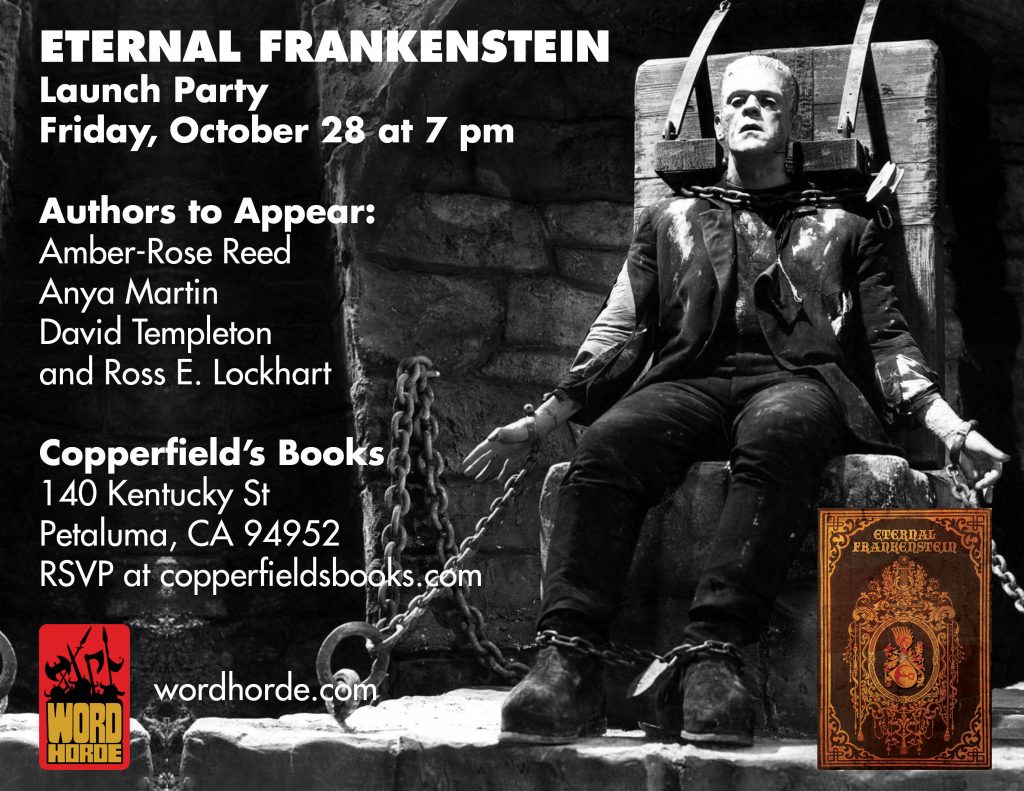 Two hundred years ago, a young woman staying in a chalet in Switzerland, after an evening of ghost stories shared with friends and lovers, had a frightening dream. That dream became the seed that inspired Mary Shelley to write Frankenstein; or, The Modern Prometheus, a tale of galvanism, philosophy, and the re-animated dead. Today, Frankenstein has become a modern myth without rival, influencing countless works of fiction, music, and film. We all know Frankenstein. But how much do we really know about Frankenstein?
Word Horde is proud to publish Eternal Frankenstein, an anthology edited by Ross E. Lockhart, paying tribute to Mary Shelley, her Monster, and their entwined legacy.
Featuring sixteen resurrecting tales of terror and wonder by:
Siobhan Carroll
Nathan Carson
Autumn Christian
Rios de la Luz
Kristi DeMeester
G. D. Falksen
Orrin Grey
Michael Griffin
Scott R. Jones
Anya Martin
Edward Morris
Amber-Rose Reed
Betty Rocksteady
Tiffany Scandal
David Templeton
Damien Angelica Walters
RSVP and more details here.